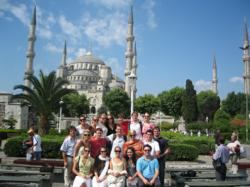 IES Abroad is pleased to partner with Sabanci University, one of Turkey's leading higher education institutions, for our new Study Turkey Program in Istanbul.
Chicago, IL (PRWEB) October 03, 2012
IES Abroad, a consortium of 200 major U.S. colleges and universities, will open a new study abroad program in central Istanbul, Turkey, beginning Fall 2013.
An ideal place to study in vibrant Turkey, Istanbul is the country's most populous city and its cultural and financial center. Located on both sides of the Bosphorus, the narrow strait between the Black Sea and the Marmora Sea, Istanbul bridges Asia and Europe both physically and culturally. With a population estimated between 12 and 19 million people, the city is one of the largest in Europe and the world.
Istanbul is an excellent location to study the recent rise of contemporary Turkey as a regional economic and political power, along with the economic, cultural, religious and historical influence Turkey has had on central Asia, the Middle East, the Balkans, the Black Sea region and North Africa.
The new Study Turkey Program offers direct enrollment options at Sabanci University one of Turkey's leading research universities. Sabanci University is a small, elite, private liberal arts university that is highly competitive in admission. All instruction at Sabanci is in English. Additional partner university options will be also be available as part of the IES Abroad program.
Sabanci has three faculties: Engineering and Natural Sciences, Arts and Social Sciences, and the School of Management. The School of Management is one of three management schools in Turkey accredited by AACSB, and the only one of the three in Istanbul that offers all instruction in English. The engineering school is a candidate for ABET accreditation. Ninety percent of the faculty members at Sabanci University have Ph.D.s from the U.S. and most others have Ph.D.s from Western European countries. The University also has an active internship for credit program. Visit http://sabanciuniv.edu/en for more information.
While in Istanbul, students will have the opportunity to live in a student residence hall or in a homestay. Field trips to locations such as the ancient Roman city of Ephesus, Cappadocia, Troy and Ankara round out this exciting new program from IES Abroad.
"We are pleased to partner with Sabanci University, one of Turkey's leading higher education institutions, for our new Study Turkey Program in Istanbul," said Dr. Michael Steinberg, Executive Vice President of Academic Programs at IES Abroad. "The university's goal to develop students who are competent and confident individuals who possess the knowledge and skills required to pursue a career anywhere in the world complements our approach to international education."
About IES Abroad
IES Abroad is a global, not-for-profit academic consortium of more than 200 top-tier American colleges and universities that has been a leader in study abroad programs for over 60 years. Founded by three optimistic post-war students in 1950, IES Abroad today offers 100+ study abroad programs in 36 cities worldwide. More than 5,700 students enroll in IES Abroad programs each year.
Every day our staff sees how studying abroad changes students' lives. As an educational organization that puts purpose before profit, we're proud of our legacy and leadership in the study abroad field. We believe that every student should have the opportunity to go abroad—especially in a fun, safe, and superior academic and cultural environment. For more information, please visit http://www.IESAbroad.org