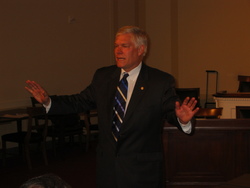 Advocacy Day 2009 was an unqualified success. IFMA's board of directors heard firsthand about Congress' interest in creating high performance federal buildings, investing in energy efficient technologies and promoting education and training for federal facility managers
Houston, TX (Vocus) April 29, 2009
Members of the U.S. Congress and representatives from the International Facility Management Association met to discuss energy efficiency and high performance federal buildings last week during IFMA Advocacy Day 2009.
Held April 22, the second annual Advocacy Day featured presentations from Rep. Dennis Moore, D-Kan.; Rep. Russ Carnahan, D-Mo.; Rep. John Culberson, R-Texas; Rep. Pete Sessions, R-Texas; and Rep. Mario Diaz-Balart, R-Fla. The lawmakers spoke on issues ranging from energy efficiency and climate change to federal property sales and the role of the U.S. General Services Administration.
Following their presentations, members of the IFMA board of directors met with senators and representatives from their home states and other congressional staff to discuss the role the 111th U.S. Congress will play in shaping the future of the built environment. IFMA representatives encouraged lawmakers to join the congressional High Performance Buildings Caucus to stay informed about the health and safety impacts of the built environment and opportunities to design and operate buildings that are safer and more sustainable.
"Advocacy Day 2009 was an unqualified success. IFMA's board of directors heard firsthand about Congress' interest in creating high performance federal buildings, investing in energy efficient technologies and promoting education and training for federal facility managers," said IFMA Director of Government Relations Jeffrey Johnson. "The congressional members we spoke with were engaged and receptive and understand how the built environment impacts their districts. We look forward to working with lawmakers in the future and continuing to elevate the role of the facility manager on Capitol Hill."
IFMA's next event in the nation's capital will be its fourth annual Public Policy Forum in September. Held in conjunction with the National Academies of Sciences' Federal Facilities Council, the forum will focus on efficient energy use in buildings.
IFMA is the world's largest and most widely recognized international association for professional facility managers, supporting more than 19,500 members in 60 countries. The association's members, represented in 125 chapters and 16 councils worldwide, manage more than 37 billion square feet of property and annually purchase more than US$100 billion in products and services. Formed in 1980, IFMA certifies facility managers, conducts research, provides educational programs, recognizes facility management certificate programs and produces World Workplace, the world's largest facility management conference and exposition. To join and follow IFMA's social media outlets online, visit the association's LinkedIn , Facebook , YouTube and Twitter pages. For more information, visit the IFMA press room or http://www.ifma.org.
Contact:
Andrea Sanchez
713-623-4362
# # #