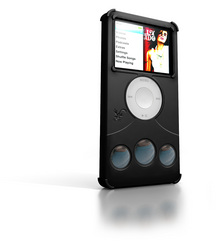 Logan, UT (PRWEB) January 7, 2008
LOGAN, Utah - January 7, 2008 - iFrogz™ announced the release of Thumpz, today at CES in Las Vegas. Thumpz is currently designed for the 3rd generation iPod nano and will also be available for the iPod Classic and incorporated into the Tadpole case. Thumpz is a 100% silicone case with a speaker that maintains a compact, stylish way to listen to your music.
The new Thumpz utilizes a passive speaker technology that offers great sound without the bulk of batteries. The iPod simply slides into the core of the speaker case and connects through the headphone jack, extending the length of the iPod about one inch. You get full protection and are able to share your music and videos without ever having to remove the case or plug it into additional speakers.
Scott Huskinson, CEO and owner of iFrogz said, "This case stands out from the millions of iPod cases as it is the perfect iPod accessory you can see and hear. We feel this is the most exciting case we have ever introduced."
The Thumpz case has an earphone port at the bottom of the case. You can listen privately to your iPod at any time by simply plugging in your earphones as usual.
Thumpz is available in a variety of colors including hot pink, green, red, black, gun metal grey, mint green, light blue, traditional pink and the popular black iFrogz Treadz.
Unprecedented and incomparable the Thumpz case retails for $24.99. The Thumpz case is the first in a new revolution of iFrogz iPod cases that offer sound and protection in one.
The case is available online, beginning today, and is set to be distributed worldwide at various retailers across the globe beginning next week.
For more information about iFrogz, or to begin designing your own custom iPod case, please visit http://www.ifrogz.com.
About iFrogz
iFrogz™ (http://www.iFrogz.com) develops innovative accessories for the iPod and other consumer electronics. iFrogz iPod accessories utilize unique designs and come in more than a million different combinations, allowing individuals to individualize the look of their iPods as much as their music and video selections are individualized. iFrogz iPod accessories are distributed globally at various retailers and online. A subsidiary of Reminderband Inc., iFrogz launched in March 2006 and is based in Logan, Utah.