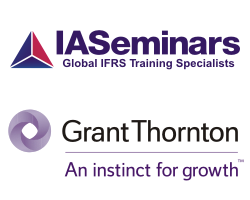 (PRWEB) July 12, 2012
More than 100 countries around the world have officially adopted International Financial Reporting Standards (IFRS) as issued by the London-based International Accounting Standards Board (IASB). In Brazil, IFRS is being applied to the consolidated financial statements of banks and listed companies, but with certain amendments and differences. This is a complex matter, and can be confusing and difficult - according to the Grant Thornton International Business Report (IBR) 2012, some 56% of Brazilian companies have not yet completed their IFRS transition.
To help Brazilian companies with their reporting requirements, Grant Thornton - the fifth largest accounting firm in the country - is pleased to be collaborating with the UK-based IASeminars group to offer a broad range of IFRS and US GAAP training courses in Brazil. By working together, the experts from both companies will be able to assist clients with their questions on IFRS theory and application. More details about the courses can be found on the Grant Thornton and IASeminars websites.
About Grant Thornton Brasil
Grant Thornton (http://www.grantthornton.com.br) is the fifth largest accounting firm in Brazil, providing audit, tax, advisory and outsourcing services to privately held businesses and public interest entities. At Grant Thornton, we want to make a difference to your business by generating the clear thinking you need, and by solving the most interesting challenges to help you unlock your potential for growth.
About IASeminars
IASeminars (http://www.iaseminars.com) has established itself over 10 years as one of the world's leading independent providers of international accounting seminars. With offices in London & Washington DC, IASeminars offers several hundred courses each year on five continents (as well as online), covering the latest IFRS and US GAAP technical topics. IASeminars events attract thousands of senior participants from around the world who are taught by an international faculty of expert instructors in several different languages.