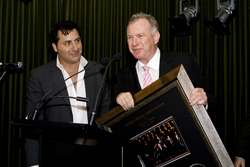 It's a great honor to perform for such a profound individual like Obama, who is striving for a common goal of world peace.
(PRWEB) December 24, 2009
To achieve a certificate as a World Peace Ambassador is a mark of distinction exclusively granted by the World Peace Association. Ambassadors for Peace are a global network of leaders representing the religious, racial and ethnic diversity of the human family, as well as all disciplines of human endeavor. They stand on the common ground of shared principles, committed to the path of promoting reconciliation, overcoming barriers, and building peace.
"If We Can Dream" will mark the beginning of a movement that has not been seen since Michael Jackson and Lionel Richie collaborated with record producer Quincy Jones and some of the world's most famous inspirational musicians, including Bob Dylan, Cindy Lauper, Bruce Springsteen and Stevie Wonder, to record the global hit 'We Are The World,' back in 1985.
The "If We Can Dream" song will help to unite all cultures from across the world and play an important role in helping to bring people together. It is a song aimed at inspiring both those who are less fortunate, and those who are more privileged to want to strive for a united and peaceful future. If We Can Dream- Universal, one of the teams behind the project for the song is responsible for not only establishing the song and exposing it Internationally, but also are responsible for promoting peace and good will; a role that they are all extremely passionate about.
The new global humanitarian anthem "If We Can Dream" Music Video can now be downloaded for the sum of US $3.50, and can only be purchased at http://www.ifwecandream.com . A portion of the profits will be donated to the World Peace Association and a further four International charities which will be chosen by the general public, via an online poll.
Those who download the music video "If We Can Dream" will become an ambassador to this global cause. All participants will automatically receive a PDF Designed certificate in recognition of their contribution, endorsing them as an ambassador to this global humanitarian cause.
In addition to this, If We Can Dream - Universal is giving the chance of a lifetime for 450 people to win a 3-day trip, including airfares, accommodation and meals to Prague, Europe, in September 2010, to feature in the Music Video Re-Shoot of "If We Can Dream". Winners will be selected by a panel of judges and flown to Prague where they will represent their country in the re-shoot of the music video. This re-shoot will be the largest multi-cultural music video ever produced, uniting all nations for one cause.
The production team involved in the re-shoot will include some of the world's most talented individuals within the music industry, including award winning record producer Peter Blyton, alongside the Prague Symphony Orchestra and one of Prague's foremost international choirs. Superstar Gospel Singer Freda Mitchell has joined the team at If We Can Dream –Universal as the Official Celebrity Ambassador to the cause of World Peace.In joining this project, Freda hopes to "encourage others to follow in the footsteps
of finding World Peace". Through her award winning humanitarian efforts, Freda's charismatic voice and ardent delivery has been described as "an explosion of high energy and emotion," surely sent from Heaven.
Freda will team up with World Peace Ambassador Charles Dupois to perform for US President Barack Obama on the back of his Nobel Peace Prize win, in early 2010. One of the songs being performed will include the global humanitarian anthem "If We Can Dream". Freda and Charles are also writing a new song together, which will be completed in early 2010. The song, which is yet to be titled, will be produced by Aria Award Winning record producer Peter Blyton and is planned to be debuted to either President Obama, or on the Oprah Winfrey Show in 2010.
While the team at If We Can Dream – Universal works hard to promote world peace, you can catch all the drama, triumphs and creativity of 'The Dream Team' in our new online TV Show that has now hit episode 4. This show offers an inside look behind the scenes of what really goes into the production of an international music and film project and can be viewed on http://www.ifwecandream.com or on over 200 social media outlets in 200 different countries.
Follow the 'The Dream Team' as they work together on this global humanitarian campaign and experience what life in the music and publicity industry is really like, first hand. Each week two new episodes will air and offer an in-depth look into the creative processes that take place when developing a mass project such as this. There will be laughter, tears and everything in between, as 'The Dream Team' works toward their global cause of helping to achieve world peace.
To download the song or music video of "If We Can Dream" or for any further information, please visit http://www.ifwecandream.com
One World, One Dream, One Song, One Download.
For further inquiries you can contact us at:
###