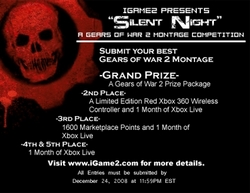 Whether it's a Midnight launch, convention or other game-related event, iGame2 is there to represent gamer culture. iGame2 features everything a community site should -- including blogs, forums, events, personalized profiles and polls, as well as programs unique to the site, such as the deathknox podcast, an interactive video podcast, and the Wire, your ear to the videogame streets
New York, NY (PRWEB) November 25, 2008
iGame2, a new social network community for gamers, where people gather to discuss games, game-related media and gamers themselves, announces its recent launch and the kick-off of "Silent Night," a Gears of War 2 montage competition. The grand prize winner of "Silent Night" will receive a Gears of War 2 prize package, complete with items signed from one of the game's producers. iGame2 is found online at http://www.iGame2.com .
"Whether it's a Midnight launch, convention or other game-related event, iGame2 is there to represent gamer culture. iGame2 features everything a community site should -- including blogs, forums, events, personalized profiles and polls, as well as programs unique to the site, such as the deathknox podcast, an interactive video podcast, and the Wire, your ear to the videogame streets," says Gil Pierre of iGame2. "iGame2 is holding 'Silent Night' in collaboration with the site's launch to showcase the lively atmosphere of gamers and gaming culture it celebrates."
To participate in "Silent Night," gamers will need to upload a video montage to Youtube and email the link to igame2ace at gmail dot com from now until 11:59 p.m. EST on December 24. The winner of the competition will be announced on January 1, 2009. In addition to the grand prize mentioned above, other prizes include: 2nd Place -- A limited edition Xbox 360 wireless controller and 1 month of Xbox live; 3rd Place -- 1600 Market Place points and 1 month of Xbox live; 4th and 5th Place -- 1 Month of Xbox live.
In addition to "Silent Night," iGame2 plans on holding a Left 4 Dead contest, where members will get a chance to win a Tokyo flash watch.
iGame2 offers features other gamer social networks don't have, including a classified section. The classified section is intended for gamers who want to upgrade their lifestyle as well as their gameplay, and features job classifieds, a stock fund and a store where gamers can purchase iG2 wear as well as books, games and strategy guides.
In addition to the social network community at iGame2.com, the iGame2 Network family also includes its own flash arcade, iPlayfreely, an arcade arena containing a vast number of interactive games ranging from action, puzzle and sports, to racing and role play. Gamers are also invited to participate in the a tournament section where gamers can challenge each other by creating a new squad, inviting current squad mates or fend for themselves as a free agent. The iGame2 family also includes DeathKnox.com, home to iGame2's bimonthly podcast, giving listeners an informative look at video game culture, what's hot and what's not and other forms of interactive entertainment.
For more information about iGame2, the Web's newest social network for gamers and gaming culture, visit http://www.iGame2.com, or contact Gil Pierre at info at igame2 dot com or at 917-686-5403.
About iGame2:
The iGame2 Network is a social network of video game culture focused on the gamer. The network also provides product promotion and event planning services for companies seeking to target the mature gaming audience. iGame2 members interact with each other online and in person through tournaments, forums and events.
The iGame2 Network family is comprised of the social community iGame2.com, DeathKnox.com, home to iGame2's bimonthly podcast, and iplayfreely.com, iGame2's arcade arena.
iGame2 actively seeks strategic partners to expand the study and advancement of videogame culture and provides targeted sponsorship opportunities to reach members of the 18-34 demographic. For more information, contact the iGame2 Network.
# # #