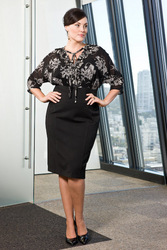 IGIGI woman is powerful and empowered, sexy and demure, brave and tender, radiating confidence with effortless style
San Francisco, California (PRWEB) September 2, 2008
IGIGI, premier brand of contemporary collections designed to fulfill the lifestyle of the beautiful, voluptuous, and confident woman, today introduces Fall 08 collection. Fashionistas can now relish in tailored suits, separates, and dresses inspired by 1950's masculine details, 1960's bohemian femme, 1970's colorblocks, 1980's geometric designs, and 1990's minimalism available now at http://www.igigi.com. Each item comes with a video featuring a plus-size model so customers can get a better understanding of how the garment will fit and look. Streaming video of the entire collection is also available at http://www.igigi.com/sidepages/about/news/video/videoLookbookFall08.cfm/pagetitle/IGIGI-Video-Lookbook.
"IGIGI woman is powerful and empowered, sexy and demure, brave and tender, radiating confidence with effortless style," said Yuliya Zeltser, IGIGI Founder and Designer. "For this collection I was very much inspired by our customers. They are strong women who have aspired for and found success and happiness in life as executives, mothers, entrepreneurs, activists, wives, girlfriends, socialites and so much more. I wanted my collection to reflect all the prominent style movements that influenced and helped them in their journey to empowerment in the last five decades."
All the items in the collection are designed and manufactured with the ultimate goal of flattering the plus-size body and making women feel beautiful and confident inside out. Large, open collars, 3/4 length sleeves, side zippers, ruching and princess seams are some of the techniques applied on top quality European Georgette, seasonless stretch light Herringbone Tweed, and gabardine/viscose to achieve ultimate fit and flattery.
Headquartered in San Francisco, CA, IGIGI designs, manufactures, and distributes apparel and accessories for fashion-loving women in sizes 12-32. IGIGI designs are created with a goal to accentuate and celebrate the beauty and sensuality of the curvaceous female figure. IGIGI apparel and accessories can be found online at http://www.igigi.com, as well as at specialty boutiques and stores worldwide.
IGIGI
Ozlem Arpaci
Ozlem @ igigi.com
415-692-5644
# # #