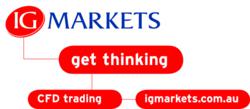 IG Markets is committed to constant innovation and providing new tools to improve our clients' trading experience.
Melbourne, Victoria (PRWEB) June 10, 2011
IG Markets, Australia's number one CFD provider*, has reduced the spread on EUR/GBP and GBP/USD, which are available now from just 1 pip. These will add to their already low spreads for major forex pairs, including EUR/USD, AUD/USD and USD/JPY, all available from 1 pip.
Mr Tamas Szabo, Chief Executive Officer, IG Markets says "As part of our commitment to provide outstanding value for money alongside quality service, we are excited to be cutting our minimum spreads on our most heavily traded forex pairs. Along with the tight spreads on forex, we offer low trading spreads on our stock index CFDs and over 7000 global share CFDs, with commissions starting from just 0.1%."
Forex is the world's most traded market, and is used to speculate on the relative strength of one currency against another. Clients who trade with IG Markets benefit from tight spreads, a pro-level real-time charting package, both simple and complex order types, as well as Forex Focus, the forex market analysis on their website. Forex Focus is updated twice daily and takes an in-depth look at moves in the AUD/USD, USD/JPY, GBP/USD and EUR/USD.
"IG Markets is committed to constant innovation and providing new tools to improve our clients' trading experience. We are thrilled to be able to reduce the spread on this very popular product, which reflects our commitment to maintain our trademark quality service and to keep our rates competitively low." Mr Szabo said.
A CFD (or Contract for Difference) is an agreement to exchange the difference in value of a particular asset between the time at which a contract is opened and the time at which it is closed. IG Markets offers CFDs on a range of markets, including forex, indices, shares, commodities, options and more.
About IG Markets
IG Markets specialises in financial derivatives, principally Contracts for Difference trading (CFD trading) on over 7,000 global share CFDs, along with indices, forex trading, commodities, options, binaries and more. IG Markets is part of the IG Group, a UK FTSE 250 member with over 75,000 active clients worldwide. For further information please call 1800 601 799.

29% of CFD traders choose IG Markets as their main provider vs. 20% for the next largest provider - Investment Trends May 2010 CFD Report.
Remember that CFDs and forex are leveraged products and can result in losses that exceed your initial deposit. CFD and forex trading may not be suitable for everyone, so please ensure that you fully understand the risks involved. Please consider our PDS before you enter into any transaction with us.
# # #