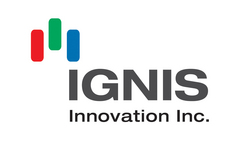 Montreal, Quebec (PRWEB) October 28, 2008
IGNIS Innovation Inc., a world leader in the design and development of thin film transistor circuits and driver algorithms for Active Matrix Organic Light Emitting Diodes (AMOLED), announced today that it is expanding its presence in the Japanese market with the establishment of a Representative Office. IGNIS plans to offer its AdMo(TM) and MaxLife(TM) solutions to the Japanese mobile and large-area flat-panel display and consumer electronics manufacturers. Through the new office, IGNIS will provide extensive sales, marketing, product support and training to maximize customer success.
"Japan is at the forefront of AMOLED technology development and commercialization which means that it is a natural choice for IGNIS to establish a local presence to demonstrate our commitment to our customers in this highly strategic market ," said Paul Arsenault, President and CEO of IGNIS.
"The timing of the announcement is to coincide with our preparation for the FPD International exhibition to be held from 29th to 31st October at the Pacifico Yokohama, added Corbin Church, Vice President. "We will be demonstrating some compelling AMOLED prototypes and significant backplane technology advances at our booth (booth #5305) this year and we are looking forward to welcoming as many of our Japanese customers as possible."
Contact details for the IGNIS Japan Representative Office are as follows:
Contact: Edward Baker
Telephone: +81 (0) 3-5579-9282
Email: ebaker@ignis.ca
Address: 7F CJ Building, 2-7-4 Nishi-shimbashi, Minato-ku, Tokyo 105-0003
About IGNIS:
Established in 2000, IGNIS Innovation Inc. has become the industry's leading independent one-stop, open-source provider for backplane and driver solutions in the growing Active Matrix Organic Light Emitting Diode (AMOLED) market. Leveraging more than 10 years of ongoing research and development, IGNIS specializes in providing our customers with proven, world class technologies in the areas of pixel circuits and driver packages for any display application. IGNIS technologies are agnostic and can be used with any TFT (a-Si:H, LTPS, uC-Si, oxide, organic) or OLED type to enhance performance and yield while reducing overall display cost.
###