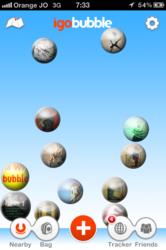 ..Pokemon meets Instagram... theiphoneappreview

... a refreshingly unique social networking app ... tapscape
(PRWEB) May 22, 2012
Location-aware free iPhone app igobubble lets users create and release virtual bubbles at real world locations. Until now, users could release photos, videos and even messages in bottles that would float on digital waves. But from today users will also be able to harness the power of moving virtual objects to take a leap of fate and potentially find a soulmate, or at least have a laugh.
With Destiny bubbles users simply add a personal photo to a virtual bubble, preselect some criteria for a preferred soulmate and release the virtual bubble anywhere in the real world. The bubble will happily float until it collides with another destiny bubble. Once the bubbles collide both parties can see the contents of each other's bubbles and chat for free inside the app.
"Your destiny bubble could take hours, days or even weeks to find a soulmate," says igobubble's CEO Kieran Galvin, "and that person could be in Argentina, Italy, or on a ship in the mid-Atlantic."
Conceding that users should not take destiny bubbles too seriously, Galvin says it's really no different to believing in horoscopes, runes or simple luck. "But you have to ask yourself ... what if? Imagine if my bubble really does collide with someone who is important for my future."
igobubble provides users with other ways to make new friends too. All users can see a location-generated list of the nearest 25 users to them and all people who touch a bubble become part of a people chain and can chat for free with each other. "Igobubble is an open social network," says Galvin, "You can be completely new in a city and make new friends without having to network through one or two contacts."
igobubble can be downloaded free in iTunes from the Apple App store. It's available for iPhones and iPads running iOS 4.3 or higher and supports English, German, French and Arabic.
"Pokemon Meets Instagram" theiphoneappreview.com