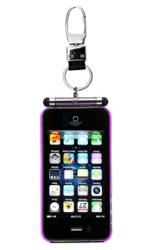 www.ihangy.com
Dallas, Texas (PRWEB) March 20, 2012
High school and college students who start getting the jitters when they can't access their Facebook accounts for long stretches during the day can discreetly sneak a peek between classes with the iHangy. A new product from the makers of OnTrion mobile phone batteries, the iHangy necklace drapes around the neck as fashion accessory while the iHangy keychain clips to belt loops, backpacks and computer bags. Both securely attach the iPhone 4S, 4, 3GS and 3 models to the body or carryall to keep the smartphone within easy reach.
According to market research conducted jointly by ComScore and Compete, iPhone owners use their Apple device more than any other smartphone users do. iPhones lead the pack in email, mobile media usage, social networking, mobile news gathering and instant messaging. Neilsen further reports that "the average U.S. user spent a whopping seven hours and 46 minutes on Facebook in August" 2011, or "15.5 minutes … every single day."
With an estimated 40% of Facebook users accessing the site with an iPhone, that all adds up to a lot of time attached to an Apple smartphone, and young adults are leading the pack in that addiction. Now those iPhone junkies can update their Facebook status, upload pictures and videos, and check up on their friends whenever the mood strikes. That's because the iHangy necklace and iHangy keychain keep their iPhones handy at all times. What's more, the product's attached touchpen simplifies their social networking habits.
The latest innovation from OnTrion, the manufacturer of a premium line of mobile phone batteries, the iHangy securely hangs around the neck or clips to a belt loop, bag or purse. That means iPhone users are never at a loss as to where their smartphone is. The iHangy also allows iPhone owners to remain hands-free when they're not using their Apple device.
Young fashionistas will flock to the iHangy necklace, which they can color coordinate to their outfits, with pink, white and black variations available. There's an iHangy option for young men and non-girly girls as well. The iHangy keychain snaps to their favorite jeans or everyday accessory. A touchpen is included with both iHangy products, which are also compatible with all iPod devices.
For more information on how to maintain constant contact with Facebook friends through an iPhone, visit http://www.ihangy.com for product information. The iHangy is available for purchase worldwide online at http://www.ihangy.com
###
CONTACT INFORMATION:
Palki Kochar
13650, TI Blvd., Suite #309
Dallas, TX 75243
(877)676-0877
http://www.ihangy.com