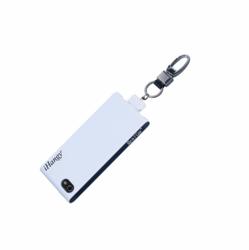 Shattered iPhone 5s may soon go the way of the first-generation iPhones. With a recently full-released iHangy Slip in 5 Case accessory protecting them, smashed iPhone 5s could very well become obsolete.
Dallas,TX (PRWEB) November 15, 2012
The estimate 26 million (and growing) iPhone 5 owners who purchased their new Apple smartphone in the first month of its release now have a readily available way to safeguard their costly investment. The iHangy Slip in 5 series of protective cases have just gone into full release. The product is available as a necklace, a keychain or a music necklace with included earbuds.
Registered user Gareth recently posted a photo of a smashed iPhone 5 on the MacResource website with the comment, "Not even a month and I shattered the screen. It was the farthest I've ever dropped an iPhone …." One responder pointedly asked, "No case?" to which Gareth replied, "Nope. The case I wanted wasn't available initially and I hadn't gotten around to ordering it."
Such a lapse in judgment is likely to cost Gareth and anyone else in his position dearly. But with the iHangy necklace, keychain and music necklace with Slip in 5 Case now readily available for purchase, they have no one to blame but themselves for a broken iPhone 5.
For more information on how to keep an iPhone 5 from shattering, visit the iHangy Slip in 5 Case series on the Web at http://www.amazon.com. To learn more about the iHangy necklace, keychain and music necklace with Slip in 5 Case for iPhone 5, contact ONTRION'S Palki Kochar.
###
CONTACT INFORMATION:
Palki Kochar
ONTRION
13650, TI Blvd., Suite #309
Dallas, TX 75243
(877)676-0877