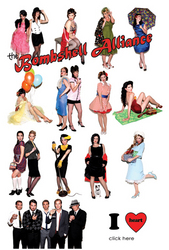 Los Angeles, California (PRWEB) October 26, 2009
I HEART Inc celebrates the release of The Bombshell Alliance, a retro pin-up girl calendar and music compilation photographed by Brooke Nipar (P. Diddy, Amy Winehouse, Nylon) on November 15th at Hotel Café. The project includes photos and songs by musicians Jen & Abby, Quincy Coleman, Laura Martin, Holly Conlan, Tin Kite, Relentless Itch, Leslie and The Badgers, Arrica Rose & the ...'s, Lelia Broussard, Manda Mosher, Miss Derringer, Correatown, Charlotte Martin, and Brown Shoe. The Bombshell Alliance Pin-up Party at Hotel Café includes live music from the calendar artists, raffle prizes and special guests. The calendar will be available for the first time at the party and is a limited edition printing. 100% of the profits from this year's calendar will be donated to funding I HEART's New Media Recycling Program and to a scholarship for a young girl to attend Silverlake Conservatory of Music.
I HEART Inc is a 501(c)(3) non-profit organization whose ultimate aim is to empower independent artists and their communities by encouraging artists to use the resources at their disposal to help raise money for charitable programs and organizations. In the process, I HEART exposes participating artists to new fans as well as fellow artists who are utilizing their creativity to inspire change locally and globally. The philosophy is simple: do what you can with where you are and what you've got. I HEART, run by co-founder and musician Arrica Rose, has coordinated creative projects and events in Los Angeles, NYC, and Austin during SXSW 2009. I HEART has been fortunate to enlist an amazing team of sponsors and supporters for these events including Willie Nelson, Crosby Stills and Nash, Iron & Wine, Rachel Maddow, The Weepies, Neko Case, Radio Hill Recorders, Isgoodradio, Jakprints, DiscRevolt, Hunnypot, Hotel Cafe and many more.
Arrica Rose's next I HEART project involves teaming up with Fran Drescher's Cancer Schmancer Movement for The Million Dollar Revival, a vaudevillian evening true to the era of old-time variety shows held December 13th 2009 at the historic Million Dollar Theatre in downtown Los Angeles. This event will raise funding for low income, uninsured women of Los Angeles to receive free women's cancer screenings (and follow-up care) right in their own neighborhoods. Hosted by Fran Drescher, the evening will include performances by Jackson Browne, The Bird and the Bee, Olivia Newton-John, Chris Pierce, The Whispertown2000, Charlotte Martin, Arrica Rose & the ...'s, Caitlin Crosby, Mortified, Charlyne Yi, and special guests.
I HEART's Bombshell Alliance Pin-up Party will be held at 7pm (doors 6:30) November 15 at Hotel Café. To see samples of the calendar and for ticket purchase visit: http://www.iheartinc.com/2010pinupcalendar
###