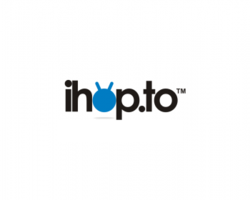 Terry Benge – CEO of ihop.to said "We see that one day every person, company and product could have an ihop.to tag pointing to their online presence – it could be facebook, twitter, a company web page or whatever the internet dreams up next.
London, UK (PRWEB UK) 10 September 2011
ihop.to is a new company, established in the UK, that has just launched an exciting new global service which will enable a shortcut between business and customer when directing website visitors. The ihop.to service provides an efficient way of finding, remembering and entering web addresses, eliminating the problem of customers and individuals forgetting how to locate websites and other online profiles.
ihop.to is a tool in which individuals or businesses can create a "tag", like a keyword, made of a single word, business name or memorable phrase, and link that tag to their website or even multiple web pages and profiles. Once created, this can then be distributed via a variety of channels, for example, TV, radio, print media, social networking sites or via video sharing sites.
Once a company or individual has created their tag, the user can type that tag into the ihop.to homepage or Facebook application, and be taken directly to the webpage or pages linked with that tag; an ideal solution for anyone who works online.
ihop.to provides the most effective and efficient way to get your personal or business website, service or product to its intended user.
If you would like more information on how ihop.to works or you want to claim your tag, then please visit http://www.ihop.to or email press(at)ihopto(dot)com
# # #