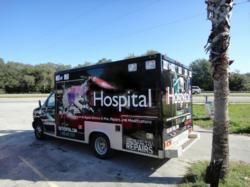 "Everything you could get done at one of our regular locations, the iAmbulance can do!"
Tampa, FL (PRWEB) December 07, 2011
The iHospital DiDs can now repair your Apple devices at your location.
iHospital, one of the nation's leading repair and accessory providers for Apple devices, has launched a new repair and upgrade service, iAmbulance. Their Apple certified technicians, called Doctors of iDevices (DiD), now make house calls to repair and upgrade Apple products in a redesigned and repurposed ambulance.
This latest addition to the iHospital family takes the Apple repair and upgrades centers mobile. Customers are no longer restricted to the five iHospital locations to get their Apple products diagnosed and repaired. The iAmbulance- staffed with Apple Certified DiDs- can meet their customers on location in their own home, corporate office, sporting events or other venues fully equipped to handle all repair and networking problems while they wait.
Ross Newman, DiD, the Founder and CEO of iHospital, says, "We're excited to unveil the latest edition to the iHospital family. Having a broken or malfunctioning Apple product is stressful. We want to make the repair process as convenient and quick as possible. Sometimes it's just not possible to get to one of our locations right away. The iAmbulance gives our customers a way to get their products repaired without spending the time to drive to one of our service centers."
Dr. Ross continues, "Everything you could get done at one of our regular locations, the iAmbulance can do: MacBook Pro repair, iPad repair, Apple computer repair, iPhone repair. Our iAmbulance team can take care of it while saving you time and money- all from the comfort of wherever you are located."
iHospital has five Apple service and repair centers in Tampa, Gainesville, Atlanta and New York. More information on iHospital and the iAmbulance can be found at http://www.theiHospital.com.
About iHospital
iHospital® was founded by Dr. Ross Newman, DiD* with one basic idea: provide a large range of repairs and services on Apple iDevices and computers with exemplary knowledge and customer service in a one-stop-shop atmosphere. Rather than repairing every make and model of electronic devices, iHospital has trained all of its iHospital doctors and technicians to focus on one family of products: Apple. iHospital does their best to ensure all iPhone and iPad repairs are done same-day; some are done in a matter of minutes. In the words of Dr. Newman, "we strive to a successful and rewarding experience for our customers, going above and beyond when performing any service or repair."

Doctor of iDevices, is not an accredited degree.
###