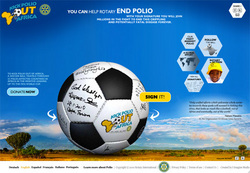 This online campaign is a true testimony of the power people have today to promote causes using social media...
Evanston, IL (PRWEB) May 20, 2010
To support Rotary's campaign to eradicate the disease, I Imagine Studio has created an interactive, strategic viral communications initiative that allows anyone to sign a symbolic virtual soccer ball online. At http://www.kickpoliooutofafrica.org, individuals can learn more about Rotary's polio eradication efforts in Africa, make a donation, autograph the digital ball, and then see their signatures and comments alongside those of world leaders.
Rotary's "Kick Polio Out of Africa" program was launched earlier this year in Cape Town, South Africa, one of the host cities for the 2010 FIFA World Cup. The effort began with the kicking of a real soccer ball that was signed by Archbishop Emeritus Desmond Tutu, a polio survivor.
That ball has since been signed by numerous African heads of state, government ministers and famous "footballers" as it travels to special events in 22 polio-affected countries across the continent. At each stop, the ball is the focus of special soccer and polio awareness events, including fundraisers and immunization clinics. Despite the existence of the oral polio vaccine, tens of millions of African children must still be vaccinated, and sporadic outbreaks of the crippling disease continue.
After zigzagging across Africa, the ball's tour will end in Alexandria, Egypt. Following a trip to the Rotary International Convention in Montreal in June, the ball will return to South Africa as the centerpiece for a special FIFA World Cup event.
Online Campaign Mirrors the Tour
I Imagine Studio's "Kick Polio Out of Africa" application and microsite allows digital signatories to view the signatures and comments of other signatories from around the globe located on a map per the signatories' provided locations, follow the ball's journey through Africa on a map and via links to blogs, and learn more about the horrific effects of polio. Participants are encouraged to invite others to sign the ball via e-mail, Facebook and Twitter.
"This online campaign is a true testimony of the power people have today to promote causes using social media to help each other to live in dignity," said Alena Tsimis, I Imagine Studio's managing director
I Imagine responded quickly and creatively to Rotary's need to create awareness for the "Kick Polo out of Africa" initiative online.
"Kick Polio out of Africa has been a true inspiration for our team," said Olga Weiss, I Imagine Studio's creative director. "We were able to make this sophisticated program come together in five days to meet Rotary's needs."
About I Imagine Studio
I Imagine Studio is a female-owned integrated advertising and branding agency recognized with over 23 top industry awards. Its mantra is "Helping Brands Succeed in a New World that Demands Responsible Business."
Founded in 2001, I Imagine Studio specializes in creating marketing communication programs for clients whose "products and services improve the quality of life, enhance our communities and improve the environment." The agency focuses on partnerships with firms that are committed to "green" initiatives, sustainability, health and well-being as part of their business objectives and cultures. I Imagine Studio has offices in Evanston, Ill. and Santa Monica, Calif. For more information on the agency, visit http://www.iimaginestudio.com
About Rotary International
Rotary International is the world's first service club organization, with more than 1.2 million members in 33,000 clubs worldwide. Rotary club members are volunteers who work locally, regionally, and internationally to combat hunger, improve health and sanitation, provide education and job training, promote peace, and eradicate polio under the motto Service Above Self.
Polio eradication has been Rotary's top priority for more than two decades. The international humanitarian service organization is a spearheading partner in the Global Polio Eradication Initiative, along with the World Health Organization, the U.S. Centers for Disease Control and Prevention, and UNICEF. To learn more about polio eradication, including how to participate in this historic effort, visit http://www.rotary.org/endpolio today.
###