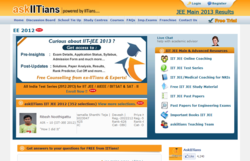 Education is the most powerful weapon which you can use to change the world, by Nelson Mandela
New Delhi, India (PRWEB) May 06, 2013
The IIT-JEE Main 2013 Results are out on May 7, 2013 and students all across the country must be on tenterhooks. Their eager anticipation is justified as the all-important results are going to have a huge bearing on their future.
Taking cognizance of the build-up to the eventual declaration of the IIT-JEE Main 2013 Results, askIITians too will display the results on its website.
The disclosure of exam results aside, the visitors to askIITians.com will be given the opportunity to seek counseling as well. With nearly 110 Ex-IITians keen on sharing their valuable experience with young IIT JEE MAIN & JEE ADVANCED 2013 aspiring students with no cost, the bait seems worth taking.
It is not just the crème de la crème (1,50,000 students appearing for IIT-JEE ADVANCED 2013 on June 2) that is invited to interact with experts and learn useful tips from them. Those who have missed the boat and are keen on trying other options other than IITs (NITs for example) too can present their respective cases and receive counseling accordingly.
Aditya Singhal, director of askiitians.com, underlined the importance of counseling after the official release of the IIT-JEE Main 2013 Results through the following statement:
"It is on the cards that, a lot of students will be in a dilemma after the IIT-JEE Main 2013 Results are declared officially on May 7. To guide the IIT JEE 2013 aspirants towards IIT JEE advanced 2013, we are offering free counseling from our 2012 toppers and our panel of experts comprising ex-IITians. Askiitians also offers Open Discussion forums in order to allow IIT aspirants to discuss any query about their preparation with a fellow IITian."
About askIITians.com:- A dynamic forum where students can partake in interactive online classes for JEE MAIN and JEE ADVANCED. The website has been successful in enabling lacs of students to realize their dreams of cracking crucial examinations like IIT JEE, AIEEE, BITSAT and DASA through SAT II. The counselors comprise a group of ex-IITians that works dedicatedly toward offering assistance to JEE aspirants all over the world. Offering coaching facilities in places that are devoid of good educational institutes is the biggest contribution by askiitians so far. What's more, the site also provides its users with free study material.