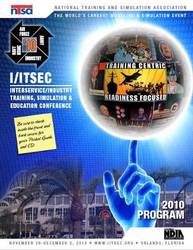 Orlando, FL (Vocus) November 16, 2010
The largest assemblage of modeling, simulation and virtual reality technology the world has yet seen will converge on Orlando's Orange County Convention Center starting November 29. Sprawling across a quarter million square feet of the convention center floor, more than 600 exhibitors from around the world will showcase the latest in live, virtual and constructive training technology. More than 18,000 attendees from government, academia, industry and research institutions are expected to attend the four-day event, which will also feature dozens of sessions exploring the latest developments in the world of simulated environments.
Distributed learning environments, combining live training with virtual and constructive simulations, will be featured in healthcare, military and national security exercises. This year, healthcare simulation training, a rapidly expanding field, will be showcased, with first responder training, battlefield medicine and virtual ERs among the categories. Constructive environments, able to predict complex interactions involving thousands of variables, will be featured, predicting violent weather, disease spread, crop growth patterns, structural integrity, and many other applications.
On the military side, the latest in human to human interaction, involving live and synthetic environments for irregular warfare and small unit training, will be a major focus. The aim is to create a fully synthetic battlespace, where the trainee has difficulty distinguishing the training experience from reality. The latest in virtual simulations for training to operate complex equipment in dangerous circumstances is now so advanced that all human senses are involved in the experience. These totally immersive environments will be featured all across the exhibit hall floor.
The event, called the Interservice/Industry Training, Simulation and Education Conference, will run from November 29 through December 2 and is presented by the National Training and Simulation Association (NTSA), the premier organization representing the modeling and simulation industry. Entry is free for the media, who are encouraged to register in advance at http://www.iitsec.org or at https://secure2.rhq.com/iitsec2010/public/index.cgi?track=media. On-site media registration will be by room S210E at the convention center. The media center will be located at S210E; the phone is 407-685-6136. Principal point of contact for the media is John Williams, at 703-362-7005.
###