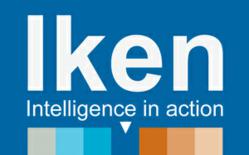 We deliver typical productivity improvements of 10 to 20%
Bristol (PRWEB UK) 8 March 2012
Iken, a leading supplier of sophisticated information, case and matter management software and support services, has been selected for inclusion on the government's newly-launched "G-cloud" list of software suppliers. The award of a place on the list will make procurement of Iken's software and consultancy services much more straightforward for thousands of potential customers across the public sector.
The suppliers on the new central government list - called "CloudStore" - had to meet challenging criteria to win their place, including demonstrating value for money, and an ability to work in an agile and efficient manner.
Iken is already a leading supplier of information, case and matter management to over 100 local authorities, police teams and regulatory bodies in the UK and abroad. Its CloudStore entry covers the supply of software for case management, time recording and service level agreement billing, and court, evidence and document bundling.
Iken Director, Elizabeth Miles, said the award is a significant milestone in the company's development:
"Iken's software and services are already making a huge difference to the efficiency of many knowledge worker teams across the public sector, especially in local authorities. We deliver typical productivity improvements of 10 to 20% or more to our existing customers: now many more potential customers across local and national government, and in other public services, will be able to procure our services quickly and efficiently.
"Part of Iken's mission in delivering improved systems is to help hard-working staff across the public sector. We know that the flexibility and adaptability of our software makes a big difference to busy teams coping with increased workloads, allowing them to deliver a better service whilst reducing wasted time and lowering stress levels. This award opens up the possibility of us helping many more staff across the country."
The new CloudStore catalogue of IT service suppliers is part of the UK government's G-Cloud programme which is aiming to transform the way the public sector uses information and communication technology. Cabinet Office Minister, Francis Maude MP, who is heading up the programme, said:
"The launch of CloudStore is an important milestone in the government's IT strategy to deliver savings and an IT system fit for the 21st century. Simply stated, purchasing services from CloudStore will be quicker, easier, cheaper and more transparent for the public sector and suppliers alike."
Iken's clients currently include local authorities, police forces and non-departmental public bodies across the UK, as well as public sector organisations and regulators in other countries, leading international law firms and private sector companies such as Adecco, Eurotunnel and Lloyds Pharmacy.
Editor's Note:
Iken provides adaptive case and matter management software to a wide range of organisations requiring the efficient and secure sharing of virtual information such as memos, emails, letters, reports and case notes, as well as efficient time recording.
Integral to the success of Iken is its training and ongoing consultancy, which helps ensure the smooth implementation and ongoing use of its software.
Iken works with private and public sector organisations, including transport company Eurotunnel, recruitment group Adecco, and over 100 local authorities and police teams, including one of the largest legal teams in local government, in Birmingham City Council.
International clients include the Real Estate Council of Alberta, Canada, which licences and regulates property agents, and law firm TGC Corporate Lawyers which operates across several European cities.