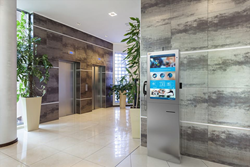 "The 32-inch LCD monitor is just an awesome amount of real estate," marvels Advanced Kiosks project manager Nathan Morse.
(PRWEB) October 22, 2014
The eye-catching iKiosk is a favorite of retailers all over the country, and this fall, it has a new look for the new season. The bold makeover was a labor of love for Advanced Kiosks. As one of the world's largest producers and innovators of self-service kiosks, Advanced Kiosks is always retooling its product line to meet the ever-evolving needs of our customers, and the new iKiosk has something for everyone.
When the iKiosk debuted in 2005, it had a 19" touch screen, plenty of poster space and stood at a whopping 7 feet tall. Today, the rules of marketing have changed. Interactive kiosks' digital signage offers flexibility, immediacy and grabs attention in a way old-fashioned signs just can't. That's why the new iKiosk has swapped its posters out for 32 inches of high-definition, interactive display space. And while bigger is often better, the old model could be a bit intimidating; so we've scaled it down to an approachable 5 feet 7 inches.
"The 32-inch LCD monitor is just an awesome amount of real estate," marvels Advanced Kiosks project manager Nathan Morse. "The interactive portion doesn't need to take up all that space. There's still plenty of room to showcase all your company has to offer."
Retailers use the iKiosk to promote sales, discounts and new products. Customers can sign themselves up for loyalty cards, reward programs and email notifications so cashiers no longer have to double as data entry clerks. For the hospitality industry, the iKiosk can introduce a facility to new guests, touting amenities and services. Universities love this model because it draws students, staff, alumni and visitors from across campus to view and interact with a variety of content. But no matter which sector of the economy you belong to, if you have foot traffic and the need to disseminate important information, the iKiosk is for you.
The 32-inch touch-screen monitor, WiFi and your choice of 10 colors all come standard with the new iKiosk, but like all our hardware, the unit is fully customizable. It has a flat surface area on the front and back for vinyl-graphic branding so it fits right in with its environment and your family of products. Add a half-sheet printer to print coupons, receipts, event tickets or directions. A credit card reader enables customers to make payments and/or shop online.
Every kiosk comes with our Kiosk Care software package preinstalled to manage your kiosk and keep your unit healthy and safe. But, remember, we also offer a full line of software solutions for every industry and every self-service task, from purchasing to printing to scanning. The iKiosk's sleek, elegant design is guaranteed to attract users; what you do with them is up to you. Let Advanced Kiosks help you design the perfect interface to engage and satisfy your customers while growing your business.
About Advanced Kiosks:
Advanced Kiosks is a premier supplier of state-of-the-art computer kiosks, providing interactive turnkey solutions designed, engineered, manufactured and supported right here in the United States. Advanced Kiosks has many off-the-shelf, self-service kiosk designs and can also create custom-built hardware with fully customizable software for the most personalized self-service kiosk experience possible. Advanced Kiosks' commitment to quality and service is unparalleled and backed by an unmatched three year, end-to-end warranty.