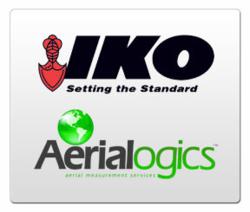 We're tremendously excited to offer the benefits of Aerialogics' aerial measurement technology to our ShieldPro plus+ certified contractors
TORONTO, ON (PRWEB) May 04, 2012
North American residential roofing pioneer IKO announced today that it will be collaborating with Aerialogics, a leading provider of aerial measurement services. The new partnership is expected to carry added program benefits for IKO's ShieldPro plus+™ and SHIELD Roofing Program participants.
Aerialogics provides cutting edge aerial measurement reports that offer contractors a detailed, accurate breakdown of the roof, including measurement diagrams, color photos and a waste factor chart. The use of Aerialogics' reports gives contractors a critical competitive edge in getting timely and accurate measurements, determining material needs, planning manpower and reduces downtime due to materials shortfalls. The use of their reports leads to faster, more accurate estimates, a more professional presentation to and more face time with homeowners and building owners. All of which can lead to higher closing ratios for contractors.
"We're tremendously excited to offer the benefits of Aerialogics' aerial measurement technology to our ShieldPro plus+ certified contractors," noted IKO's Marketing Director Carol Perkins. "For our ShieldPro plus+™ and SHIELD Roofing Program roofers, the customized package of Aerialogics' reports will make their business more efficient and effective, and ultimately more competitive when quoting on re-roofing jobs."
"We appreciate that IKO has a long history of leadership and innovation in the roofing industry, just as Aerialogics is a leader and innovator in our own field," stated Aerialogics President, Brad Segal. "We think this association will be mutually beneficial, not just for IKO and Aerialogics, but for IKO's Shield contractors as well."
About IKO
Established over 60 years ago, IKO remains a family-run business, engaged in the manufacture and sale of asphalt roofing materials. It is a vertically integrated roofing company, producing many of the raw materials used in manufacturing its shingles, such as mineral stabilizer, roofing granules, fiberglass strands, and fiberglass mat. Most key components are manufactured within IKO's family of companies, under its own stringent quality assurance. This provides superior quality assurance over all its finished products. The IKO family of companies has over 25 manufacturing plants throughout the United States, Canada and Europe.
About Aerialogics
Aerialogics is a premier provider of aerial measurement services, continuously leveraging their innovative technology within the roofing, construction and solar industries. Catering to the United States, Canadian and recently attained European markets, Aerialogics aerial measurement reports continue to become a standard tool used by clients to lower operational costs and facilitate the estimating process. Headquartered in Nashua, NH, the foundation of Aerialogics is built upon experience acquired in the construction industry and information technology, creating a unique blend of expertise that drives the company's innovation forward. To learn more about Aerialogics, visit http://www.aerialogics.com.
Copyright 2012 IKO. All rights reserved. For media or industry analyst support, please visit our website at http://www.iko.com.