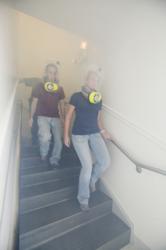 Professional gear like this has not been readily available and it was never this simple to use.
Tarzana, CA (PRWEB) October 14, 2012
Pandemic survival company'ContagionSurvival.com' now carries the SCAPE Powered Escape Hoods by ILC Dover, designer and producer of the space suit pressure garment for NASA as well as maker of millions of military masks.
A Contagion Survival Company spokesman said, "Whether escaping smoke and fire, chemical or biological spills, sarin or mustard gas, nuclear contamination or terrorist threats, our SCAPE Powered Hood provides a minimum of 30 minutes continuous total protection. It's just the right product to fill the space between our inexpensive and popular HK Escape Hood, our complete individual and family contagion kits, and our Sentinel XL System, the ultimate in CBRN protection. And, they're manufactured right here in the USA."
Developed to protect against traditional military agents as well as toxic industrial materials such as chlorine and ammonia, the SCAPE Powered Hoods have been deployed around the world as well as purchased by the US Government and the United Nations.
"During our safety inspections around Southern California, we've seen an office and industry workplace market that until now has been ignored," the spokesman continues. "Professional gear like this has not been readily available and it was never this simple to use. Just remove the hood from the packaging and the "instant on blower" starts. Pull the hood over your head to your shoulders and now you can effectively escape a high-rise or industrial fire, a chemical, biological or nuclear spill, or any kind of terrorist threat. The wearers of the SCAPE Hood feel fresh, clean air on their faces and maintain clear vision so they can assist others in their escape and double the number of evacuees."
ContagionSurvival.com is an arm of First Aid Global, LLC, an emergency preparedness company in Tarzana, CA. Their mission is to provide respirator escape systems to businesses as well as the general public. Contact them by email at sales@firstaidglobal.com, visit them online, or telephone 866-305-1753 for more information.