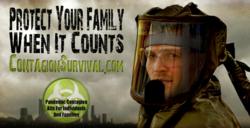 Preparedness may not be at the top of your list of things to do today, but the CDC recommends that you 'Get a Kit, Make a Plan, Be Prepared'
Tarzana, CA (PRWEB) July 25, 2012
ContagionSurvival.com is now adding several professional respiratory products from ILC Dover to their list of Pandemic Survival Kits. Designed and manufactured in the USA, their CBRN (short for Chemical, Biological, Radiological and Nuclear) Powered Respirators are the ultimate in protection from smoke and fires, terrorist threats, chemical agents like Sarin, biological contaminants like H1N1 and Nuclear hazards.
"It's a fact that it may take several months for the CDC to come up with a proper vaccine for a new stain of virus," says a spokesperson from ContagionSurvival.com. "Meanwhile, our chances of contracting and spreading viruses increase without proper protection and with improper habits, like touching doorknobs and other contaminated surfaces, then touching our hands to our faces. By the time a worst case scenario is warranted, fear, panic and a run on supplies will make the situation worse, leading to a potential breakdown of society."
"Preparedness may not be at the top of your list of things to do today, but the CDC recommends that you 'Get a Kit, Make a Plan, Be Prepared'. The Pandemic will reach a point when you will NOT be able to find protective gear such as hazmat suits, respirators and sanitizers, and you may be forced to leave the safety of your home to search for food, drugs and help, only to become contaminated yourself."
ILC Dover designs and produces the space suit pressure garment for NASA, as well as millions of gas masks for the military, and now their respiratory gear is available through ContagionSurvival.com's website.
The SCape CO/CBRN escape respirator offers protection from all hazards in an easy to wear hood that also filters out carbon monoxide, the leading cause of death in 80% of fires. Simply remove the hood from the container and the blower fan immediately fills the hood with clean, filtered air. The hood provides clear vision so the wearer can even rescue others during an evacuation.
The Sentinel XL Powered CBRN Butyl Hood is the ultimate in user safety and comfort with a three-filter blower that is worn on a belt around the waist. Its NiMH batteries provide eight hours of positive airflow and can be recharged over and over. When combined with the Kleen-Guard Blood-Borne Pathogen Suit, the Sentinel XL Kit will make it possible for the user to venture out from the protection of their homes to gather supplies and return safely to their families.
"Our company's purpose is to provide 21st century products that meet 21st century threats. Not only do runaway viruses pose a threat, just imagine a chemical spill or gas explosion from a derailed train or factory explosion, or a nuclear power plant leak or dirty bomb upwind. Don't allow yourself to be placed in a situation where you have to expose yourself to mass panic when catastrophe strikes. Prepare for yourself and your family's needs now."
ContagionSurvival.com supplies powered respirators ranging from $300 to $1200. They also carry Pandemic Quick-Kits for under $10 that fit adults as well as children as well as Smoke Hoods starting around thirty dollars. The company is located in Tarzana, CA and can be reached toll free at 866-305-1753.