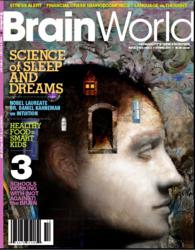 Brain World is written for the general population and reached widespread distribution through newsstands and bookstores in 2010. It explores cutting edge science and how its findings can affect human health, culture, education, global issues and more
Sedona, Arizona (Vocus/PRWEB) March 02, 2011
The International Brain Education Association announced today that the spring issue of Brain World , a magazine promoting neuroscience as the next great scientific frontier, will be released on March 15.
The Spring 2011 issue will focus on sleep and dreaming, with topics ranging from brain education to mind-body-spirit practices such as yoga and meditation that improve health and boost energy. Other features will address how advances in understanding the nature of the brain, consciousness, behavior and health will transform human life in the next century. It contains interviews of scientists and other leaders, including renowned dream researcher, J. Allan Hobson, Professor of Psychiatry Emeritus at Harvard University Medical School; Nobel Laureate Dr. Daniel Kahneman, a specialist in intuition and decision-making and Georg Kell, Executive Director of the United Nations Global Compact office, among others. The issue also details current discussions taking place at the UN on Brain Education.
In addition to its printed format, Brain World offers a comprehensive website, brainworldmagazine.com, devoted to news and resources about brain education and brain health. Starting with this issue, it will also be available for iPads, iPhones, and Android-based electronics.
Brain World is written for the general population and reached widespread distribution through newsstands and bookstores in 2010. It explores cutting edge science and how its findings can affect human health, culture, education, global issues and more. The magazine was first circulated in March 2009 and is published by the International Brain Education Association (IBREA). IBREA was founded by Ilchi Lee author and founder of Dahn Yoga, Brain Education, Brain Wave Vibration and numerous meditation methods that utilize ki energy in pursuit of healing and peace.
In the Publisher's Letter of the March issue, Ilchi Lee communicates the practical treatment the magazine, and his Brain Education method, gives sleep and dreaming with this advice on how to use them for goal achievement: "Every night, we tend to set our vision and goals before entering into our dreams. During our sleep, we sift through all the obstacles that stand in the way of achieving what we set out to achieve, and our subconscious starts working to overcome them. The more purposefully we do this, the more insights will come to us about the tools we need to bring our dreams closer to reality. This can happen during our dreams or when we wake up."
About the International Brain Education Association
The vision of the International Brain Education Association (IBREA) is for Brain Education to be applied by all people around the world, empowering individuals to take positive action to create health, happiness and peace for the benefit of all humanity and the Earth. IBREA increases awareness of the brain's potential through brain education and training, events, research, publications and partnerships with other organizations and institutions.
About Ilchi Lee
Ilchi Lee is an author and founder of Dahn Yoga, Brain Education, Brain Wave Vibration and numerous meditation methods that utilize ki energy in pursuit of healing for individuals, society and the earth. As president of the International Brain Education Association and the University of Brain Education, he is a well-respected humanitarian, working with the United Nations and many other organizations to make contributions to their global peace and humanitarian efforts.
###