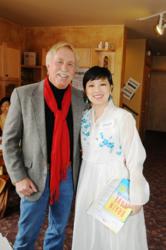 Having been born when the Korean War had just begun, I've always appreciated the veterans who risked their lives in a foreign land for our freedom and peace
(Vocus/PRWEB) February 09, 2011
On Saturday, February 5, the Sedona Korean American Association (SKAA) held a day of events to celebrate the most important holiday in Korea—the Lunar New Year. The festival was a family-oriented day of peace open to all residents of Sedona and the surrounding area. Activities included Asian food from local Korean, Chinese, and Thai restaurants, Chinese Zodiac fortune telling, Korean folk games, a raffle, a Korean movie and calligraphy art. All profits from the event will benefit a Korean War Veterans Monument to be erected somewhere in the Verde Valley, Ariz.
Ilchi Lee, a native of Korea and author and founder of Dahn Yoga, Brain Education and numerous meditation methods that utilize ki energy in pursuit of peace and healing for individuals, society and the earth, suggested the monument and will donate $10,000 towards its fund. A resident of Sedona, Ilchi Lee is a supporter of the Sedona Korean American Association.
"This monument is an important instrument for reminding us all of the unfulfilled need for freedom and peace, and the steep price they cost," Lee shared about the project. "Having been born when the Korean War had just begun, I've always appreciated the veterans who risked their lives in a foreign land for our freedom and peace, and I believe they should receive the recognition they have often been denied. Besides reminding us of the past, I hope this monument will also remind each of us to act for peace in the present."
"The goal of this event is to raise money for a very noble cause," said Jaesoo Kim, Korean Consulate General in Los Angeles. "The festival also gives the thriving Korean community of Sedona the perfect opportunity to share the rich Korean heritage, art and food with their neighbors."
Besides the ongoing activities that marked the 11 am to 3 pm event, the ever-growing crowd was also treated to performances by Arirang, a Tucson-based Korean folk dance troupe, and Yolessa Lawrinnce, a modern dance artist. Words of support were given by Rob Adams, Mayor of Sedona, and a congratulatory message from the Korean Consul General of Los Angeles was delivered by the President of the Arizona Korean Association. At this time, members of the Sedona Korean American Association honored the crowd, especially the veterans present, with a special traditional tribute given to elders for the New Year called Sebae.
In addition, Association President Banya Lim presented their proposal for the Korean War Veterans Monument, and several of the veterans present shared stories of their time in Korea. One Vietnam Veteran from nearby Camp Verde, Arizona commented, "I was glad to see the honoring of the Korean War Veterans and for their sacrifice for South Korea. Because of their sacrifice, South Korea is free to live their ancient culture and the new technologies."
The Sedona Korean-American Association plans to work closely with the City of Sedona to erect the Korean War Veterans Monument sometime in 2012. They solicited suggestions from those present, and shared their desire to work with Korean War Veterans on the design and fundraising. Sedona Mayor Rob Adams said he was excited to collaborate with the Association and had already begun a conversation with them. The Association also plans to work with other local groups and Korean associations.
Lunar New Year events like this one are held throughout South Korea, China, Japan, Mongolia, Tibet and Vietnam. Approximately 1.8 billion people celebrate this important holiday, which traditionally begins on the first day of the first month in the Lunar calendar and ends with Lantern Festival Events. This year, the Lunar New Year began on February 3 and will end on February 18.
About the Sedona Korean American Association (SKAA)
A non-partisan, non-profit, community-based, 501(c)3 organization dedicated to serving the various needs of Sedona Korean-Americans, SKAA endeavors to coordinate community activities and events, educational and cultural activities and events, and promote and preserve beautiful Sedona with various other district and ethnic organizations in pursuit of the spirit of Hongik, a Korea founding philosophy that translates to Love for Humanity and Love for the Earth.
About Ilchi Lee
Ilchi Lee is founder of Dahn Yoga, Brain Education and numerous meditation methods that utilize ki energy in pursuit of healing for individuals, society and the earth. He has written 32 mind body spirit books on meditation, Brain Wave Vibration and energy. Currently, Ilchi Lee serves as the president of the University of Brain Education. He is also president of the Korea Institute of Brain Science and the International Brain Education Association.
###