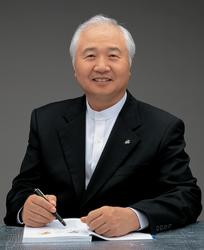 Vibrate your Brain to Life
London (PRWeb UK) July 1, 2009
Innovative brain educator and philosopher Ilchi Lee leads London in learning to unleash the power of brain wave vibrations. "Vibrate your Brain to Life" features Lee, founder of the Brain Wave vibration method and president of the International Brain Education Association. The event will be held Saturday, 25th of July, 2:45-5:00 p.m., at the Logan Hall of the Institute of Education of London University, 20 Bedford Way, London WC1H 0HL.
In Lee's engaging, interactive lecture, Brain Wave Vibration (BWV), a simple yet profound method, he will show and explain how gently, rhythmically shaking one's body and brain can yield amazingly positive improvements in the physical body, mind/emotions, spiritual awareness, and life success. This method is among the most powerful and efficient of the hundreds exercises that he has developed over the past 30 years for Brain Education, a system for utilizing one's brain to achieve greater health, happiness, peace and success. Business people will find Lee's techniques especially rewarding for stress management, paying dividends with increased focus, greater efficiency and added success.
Lee is a pioneering brain philosopher/educator and brain-business strategist, who came to devote his life to researching and teaching how to better utilize the human brain to promote a better world. He believes that by utilizing the brain's full power, individuals and humanity can achieve their fuller potential, and creatively resolve the serious problems that confront them. "Humanity, by focusing on the brain as the final determinant of human consciousness and behaviour, will unite people worldwide in creating a peaceful sustainable way of life within this century," said Ilchi Lee, in a recent LA Yoga Magazine profile of the master of brain techknowledgey.
Lee is the founder and president of the Korea Institute of Brain Science (KIBS), a non-governmental organization in consultative status with the United Nations, which has hosted several conferences on Brain Education and its contributions to health, education and peace. Announced at the UN in 2008, two Japanese professors' Brain Wave Vibration-focused research studies indicated that BWV practitioners realized positive physical and mental health improvements.
The BWV method can also contribute to an improved business environment and heightened professional accomplishment. Among other stress management benefits, BWV allows practitioners to bring balance between calm and tense brain waves, allowing for greater mental clarity and the focus needed for efficiency and success.
Lee's Brain Education programs and methods evolved from traditional practices in a South Korean park to a worldwide phenomenon. Now his unique brain-fitness training is offered at nearly 1,000 exercise centers around the world, known in the U.K. as HSP Holistic Yoga. At the core of Brain Education is the understanding that everyone has a Brain Operating System, like a computer has a user's manual. This enables one to practice Brain Management to achieve one's life goals.
Lee has authored 31 books (14 in English), with the most recent Brain Wave Vibration articulating a clear expression of the philosophy and science behind this method, and various ways to do it. His other recent brain-focused books include In Full Bloom (Brain Education for successful aging), Principles of Brain Management, and Power Brain Kids. Brain Wave Vibration has recently earned 2 awards: Gold medal of the 2009 Living Now Books Awards (Meditation and Relaxation category) and Winner of the 2009 Arizona Glyph Awards (Psychology/Self Help category). In Full Bloom also won 2 awards: Silver medal of 2009 Living Now Books Awards (Mature Living and Anti Aging category) and winner of the 2009 Arizona Glyph Awards (Health/Wellness/Nutrition category).
The London Brain Wave Vibration event will create an experience for the participants that will have virtually immediate results - including calming and centering the mind, improving memory, eliminating pain, expanding joy and peace, and enhancing the natural capability to heal body and mind. With appropriate music, the event will consist of a series of fun and meaningful movements and messages.
The £25 admission includes a copy of Lee's latest publication 'Brain Wave Vibration'. Call 01372 743991 or 07793 743292 to book your ticket and receive your own copy of the book within 2-3 days. Happy reading!
About HSP Holistic Centres
HSP holistic centres and IBREA are honoured to sponsor this event. HSP holistic centres currently provide professionally guided training at 6 locations in the UK (2 in London, 3 in Surrey, 1 in Brighton) where you can enjoy Brain Wave Vibration as a regular practice. For more information or for a 20% discount introductory coupon visit: http://www.hspholistic.com. Media contact: Claire Gaudry (07793) 743292.
Press Release contact details:
Claire Gaudry
claire (at) hspholistic (dot) com
Tel: 07793743292
http://www.hspholistic.com
# # #