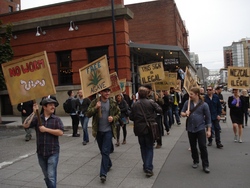 We've been really frustrated because these artisanal spirits that we're very excited about have had a hard time getting into the state through the OLCC
New York, NY (Vocus) October 29, 2010
For the last year we have been reading about Mezcal bars, opening up in New York and Los Angeles, which pride themselves on carrying small batch, artisanal versions of this Mexican spirit.
But who would have ever thought that an organization of bartenders, along with a group of patrons, would hit the streets brandishing placards reading "Mezcal is Ilegal" and "Free Agave" protesting for mezcal?
Well this is precisely what happened in Portland, Oregon, last Saturday, when a legion of spirited drinkers staged a mock protest calling for the Oregon Liquor Control Commission (OLCC) to give better treatment to "high-quality agave spirits".
The protest, dubbed March for Mezcal which was part of 2010 Portland's Cocktail Week and The Great American Distiller's Festival, was sponsored by Ilegal Mezcal, a brand of artisanal mezcal which was denied entry into the state by the OLCC. Although there are a few brands of mezcal in the Oregon market, bartenders claim most can only be obtained through a costly "special order" process, and supplies are regularly low.
"We've been really frustrated because these artisanal spirits that we're very excited about have had a hard time getting into the state through the OLCC," said David Shenaut, President of the Oregon Bartender's Guild. "They go on 'special order' at exorbitant prices—they're very over-priced." Shenalt is one of a new breed of bartenders; bartenders that are dedicated to the craft of the cocktail and to bringing their customers finer, and often harder to get, spirits. Shenatut added, "we are educating our customers every night as to what mezcal is- a complex artisan spirit with a rich indigenous history. What do we want? Mezcal! When do we want it? Right NOW!" Ilegal Mezcal, which is vintage and small batch is one of the more sought after Mezcals to find its way across the border.
In response the OLCC has replied that they are not blocking Mezcal and that you can get several kinds at liquor stores in Oregon.
John Rexer, the owner of Ilegal Mezcal, from his bar in Antigua, Guatemala said, "This is all in fun, and it is great to see the support for "real" mezcal in Oregon and elsewhere. I can't thank the bartenders in Portland enough for getting behind Ilegal and the other brands of artisanal Mezcal. It's a long road from the tiny factories in Oaxaca to Portland, but these lunatics make it all worth the while. They are the guardians of quality over quantity. One way or another, Ilegal and other artisanal brands, will become available."
"We're big fans of Mezcal here at Tequila.net, and Ilegal is in our top 10 of all Agave spirits", remarked Darin Jones, owner of Tequila.net. "It's exciting to see Ilegal Mezcal spread like wildfire throughout the United States."
# # #