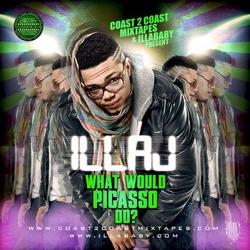 We're working to breakthrough a stigma that goes along with Northwest artists
Portland, OR (PRWEB) July 22, 2009
Illaj releases his new music video, "Use Your Heart," from his recent mixtape "What Would Picasso Do?". The video marks the first single release for Illaj and his new venture as a solo artist as well as his new company, Illababy Entertainment.
The video was produced by Illababy Entertainment and filmed and edited by MFL. The editing was partially done by Peruz Pro. It was filmed on the back deck of one of Portland's popular lounges Rontom's. Illaj plans to use more popular local hotspots for upcoming videos as the location proved a perfect match.
"What Would Picasso Do?" was released in March of 2009, and is Illaj's first solo mixtape. He has appeared on numerous volumes of Coast 2 Coast Mixtapes, and has released several collaboration projects with other Portland artists.
The video portrays an artistic side of Illaj that reflects on his involvement in the fashion and art communities with vivid colors, slideshow images, outlines of multi-colored figured and scenes with stark contrast of color spot highlights against scenes in black and white with fading pixilation.
The single "Use Your Heart" combines both traditional rap styles as well as singing. It touches on autobiographical instances of the artist's life, which is portrayed clearly within the content of the video itself.
The video can be found on Youtube via the following link: http://www.youtube.com/watch?v=FbdgArq-H6s
"We're working to breakthrough a stigma that goes along with Northwest artists," said rapper Illaj, "We're involved in the fashion industry, we're active in the art community as well as the music industry. We're trying to make water into wine and do something that will appeal to people in a different sense with the video, the mixtape, and our website Illababy.com"
Illaj plans on releasing additional singles from his mixtape in the future. He hopes that the release of "Use Your Heart" will continue to push the artist to higher levels in all the endeavors he pursues, as well as aid in the promotion of his mixtape "What Would Picasso Do?, IllaBaby.com and IllaBaby Entertainment. He will also continue working with Coast 2 Coast Mixtapes and pushing music through the huge promotion company.
###