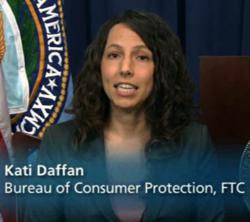 "The FTC has filed over 35 cases against marketers of mortgage relief services, and the agency has partnered with state law enforcers to bring hundreds more.~ http://www.ftc.gov
Eden Priaire, Minnesota (PRWEB) July 12, 2012
Yesterday the Federal Trade Commission (FTC) put out a press release offering homeowners and consumers tips on how to respond to robocalls and avoid mortgage relief scammers. Quite simply, there are four basic tips mentioned:
1) Hang up the phone
2) Don't press any numbers
3) Consider blocking the number
4) Report it to the FTC at ftc.gov
Mortgage relief scammers falsely claim that, for a fee (typically hundreds or thousands of dollars paid up-front), they will negotiate with consumers' mortgage lenders or servicers to obtain a loan modification or other relief to avoid delinquency or foreclosure. Many of them pretend to be affiliated with the government or government housing assistance programs. Some falsely claim to be offering legal services or "audits" of consumers' loan paperwork to help them negotiate a resolution with their lenders. Unfortunately, these operations are all too fraudulent.
In 2011, the FTC established the Mortgage Acts and Practices (or "MAP") Rule, banning advertisers from misrepresenting mortgage terms. In 2010, the FTC issued the Mortgage Assistance Relief Services (or "MARS") Rule – which bans mortgage relief providers from collecting fees until they have obtained a loan modification or other relief for a consumer. The Rule also prohibits providers from misrepresenting material aspects of their services and requires that they disclose key information to consumers. "
Deceptive and unfair practices have been on the increase and commonly found throughout the mortgage cycle. Entities targeting homeowners have included:
5) Advertisers
6) Lenders
7) Loan Services
Home Destination finds homeowners are encouraged by the tough measures taken to protect consumers from robocalls laced with intent to defraud. It is a safer more secure feeling every time a deceptive operation is brought to light and stopped. One such story was posted on July 10, by Occupy Minnesota about stopping a home foreclosure by untangling a banking scam. The report reads, "Three days before Connie Gretsch's eviction hearing, she was shocked to receive good news: The Attorney General's office had discovered that her prosecuting bank, Pacifica, did not own Connie's south Minneapolis home, or even have a license to do business in Minnesota."
In a big $2.6 million win, an FTC July 2nd press release says they gained a court judgment against an undercover operation that fabricated claims for mortgage and foreclosure-relief services. It included large upfront fees and failed to deliver the mortgage modifications promised.
The court banned three defendants from telemarketing, financial products or services; from selling mortgage modification, foreclosure rescue, and debt-relief products or services; and from collecting or attempting to collect from consumers who had agreed to purchase a mortgage-assistance product or service. The court ordered the defendants to destroy any consumer information they collected within a 30 day widow after the order takes effect.
The operation involved a marketing company that contracted with a direct-mailing company to send oversized postcards to homeowners nationwide whose mortgage payments were at least two months in arrears. Each postcard offered financial relief to the homeowner and displayed a toll-free phone number and the signature of a local attorney who accepted payment of $100 to bring the homeowner into the program. When homeowners called in, a customer service representative collected financial documents and the $2,000 fee from the consumer. "The court found that the defendants, through the post cards and telephone procedures, assured homeowners that they had qualified for loan modifications. In fact, homeowners still had to go through the modification process with lenders, and it which was usually unsuccessful."
Professor Prentiss Cox, at the University of Minnesota, has prosecuted numerous nationally recognized cases involving predatory lending and subprime mortgage lending, foreclosure, bank regulation, state attorney general enforcement authority, credit card practices, telemarketing fraud, and matters. Cox heads a 14-member predatory-lending group. Minnesota Attorney General Lori Swanson on Thursday announced an aggressive plan for cracking down on abusive home loans, saying "they're partly to blame for a surge of foreclosures".
Homeowners will have opportunity to ask FTC staff questions about robocalls on Twitter and Facebook July 17, 2012 at 1 pm ET. Follow the @FTC and/or tweet questions to #FTCrobo.
Contact Home Destination at 612-396-7832 for help and resources on foreclosures, foreclosure abuse, telemarketing fraud, and mortgage lending.