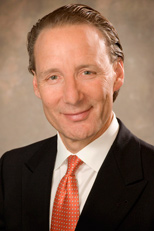 The bottom line is that car accidents are a serious public health hazard, and a concerted effort needs to be made to address the problem.
Chicago, IL (PRWEB) October 17, 2011
Chicago no longer tops the list for the worst traffic congestion in the nation, according to the results of a study recently released by a national transportation research group.
But there's still room for improvement – after all, it's only dropped to the No. 2 slot, Chicago accident attorney Patrick A. Salvi noted today.
"Obviously, Illinois commuters will be glad to learn that traffic conditions have showed measurable improvements according to this particular research," Salvi said of the Urban Mobility Report, a product of the Texas Transportation Institute at Texas A&M University.
"But dropping to second place still means we're sitting in gridlock and still at risk for serious car crashes and truck accidents."
According to the National Highway Transportation Safety Administration, there were 5.5 million reported motor vehicle accidents across the country in 2009, the most recent year for which data is available. Of that number, 33,808 people died and 2.2 million suffered injuries in auto wrecks. In Illinois alone, 911 people lost their lives in car accidents.
Motor vehicle accidents – no matter if they are car accidents, truck wrecks or motorcycle collisions – are a leading cause of death nationwide, according to the NHTSA.
"Traffic congestion is certainly part of the problem," said Salvi, managing equity partner of the Illinois personal injury law firm of Salvi, Schostok & Pritchard P.C., who has extensive experience representing clients in vehicle accident lawsuits throughout Chicago, Cook County, Lake County and surrounding areas.
"People can get distracted more easily by the radio or text messaging when they're in stop-and-go or intermittent traffic," the Chicago lawyer said. "That inattention can cause them to drift out of lanes and sideswipe or rear-end another car while they fiddle around."
Salvi named other common causes of deadly wrecks: speeding, mechanical failures, drunk or impaired driving, road conditions and road layout and design.
He agreed with the transportation researchers' assertion that not enough is being done to address inadequacies on the nation's roadways.
"Our law firm meets people who have been catastrophically injured in horrific vehicle crashes on a routine basis," said Salvi. "The bottom line is that car accidents are a serious public health hazard, and a concerted effort needs to be made to address the problem."
The Texas researchers offered several possible solutions to congestion problems, such as:

Expanding public transit lines;
Adding lanes to key highway corridors;
Introducing more technology and new roadway designs to improve efficiency; and,
Permitting more workers to avoid commuting during the traditional rush-hour period.
Salvi applauded those suggestions but said that tighter budgets in response to the weak economy may mean that those kinds of remedies are not feasible, at least in the short term.
"However, driver behavior is something that can be addressed immediately," the Illinois accident lawyer said. "The majority of accidents are caused by some form of driver error. Figuring out the cause of an accident and taking tough steps to eliminate recklessness on the roads is something that law enforcement, along with the courts, can do each day."
The best car accident attorneys work with accident reconstruction experts, mechanical engineers and others on identifying accident causes and holding negligent drivers accountable, Salvi said.
"In a personal injury or wrongful death lawsuit, those experts are key parts of making sure that people who are hurt or killed in auto accidents receive the maximum amount of compensation for their losses," he explained.
About Salvi, Schostok & Pritchard P.C.
Salvi, Schostok & Pritchard P.C. is a leading Illinois personal injury law firm with offices in Chicago and Waukegan. In addition to representing clients in catastrophic personal injury, medical malpractice, aviation and product liability cases, the firm focuses on car and truck accidents, airplane and train accidents, construction injuries, birth injuries, brain injuries, unsafe properties and animal attacks. The firm has obtained more than $600 million on behalf of its clients in personal injury and wrongful death cases, including 160 multimillion-dollar verdicts or settlements. For more information, call (312) 372-1227 or use the firm's online contact form.
###