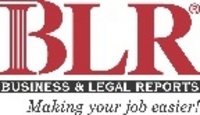 Disgruntled former employees are looking for extra money any place they think they can get it, and even good employees who need to be let go for legitimate financial reasons often suspect improper motives.
OLD SAYBROOK, Conn. (PRWEB) September 11, 2008
Now more than ever, staying up to date on employment law and compliance changes is crucial. Attendees at the BLR 2008 Illinois Employment Law Update—a 2-day conference designed for HR professionals, employers, supervisors, business owners and attorneys—will learn how to protect themselves from lawsuits brought by unhappy former and current employees, as well as receive updates on recent state and federal legislation, regulations, and court cases.
"What many employers don't realize is that employee lawsuits actually increase dramatically during times of economic hardship," says Margaret A. Carter-Ward, BLR Editor in Chief. "Disgruntled former employees are looking for extra money any place they think they can get it, and even good employees who need to be let go for legitimate financial reasons often suspect improper motives."
In addition to helping employers navigate the ever changing field of HR laws and compliance, sessions will also cover the latest best practices on:
Electronic recordkeeping Workers' compensation Bullying in the workplace Employee retention HR metrics Employee leaves Wage & hour The conference will take place at the Affinia Hotel on October 2–3, 2008.
The following 14 noted employment law experts will present on the topics listed below over the course of 2 days:
Legislative Update: The Illinois and Federal Laws, Regulations, and Court Cases You Need To Know About presented by Thomas Deer, Esq., Ogletree, Deakins, Nash, Smoak & Stewart, PC Electronic Recordkeeping: What To Keep, What To Toss, and How To Transition From Paper Files To E-Files presented by James (Jim) Barber, Esq., Clausen Miller, PC Workers' Comp: How To Control Your Costs and Avoid Common Pitfalls presented by John Connolly, Esq., Brady, Connolly & Masuda, PC Bullying in the Workplace: How To Break the Bullies Before They Destroy Morale and Your Bottom Line presented by James Abbott, Esq., Bollinger, Ruberry & Garvey Employee Retention: How To Keep the Keepers, Lose the Losers, and Maintain Optimal Turnover Levels presented by Joyce Grenis, Human Resources Advisors HR Metrics: Measuring—and Maximizing—the ROI of Your Workforce; Why Your Strategic Role Is Critical presented by James Greene, Esq., Dykema Gossett, PLLC Leaves: Managing the Interplay of ADA, FMLA, and Workers' Comp; How To Properly Designate and Allocate Leaves presented by Peter Donati, Esq., Levenfeld Pearlstein, LLC Wage & Hour Law for Illinois Employers: New Developments That Change Your Obligations; Get Up To Speed Now presented by Peter Bulmer, Esq., Jackson Lewis, LLP Attendees will also have the opportunity to attend two optional Preconference Workshops on October 1:
Hiring and Interviewing Soup-to-Nuts: How To Attract and Select the Best Candidates, Effectively and Legally presented by Elizabeth Gross, Esq., and Bryan LeMoine, Esq., Polsinelli Shalton Flanigan Suelthaus, PC The Most Common Mistakes Your Supervisors Make—And How You Can Get Them To Stop presented by Tracy Billows, Esq., Jonathan Grey, Esq., and Steven Pearlman, Esq., Seyfarth Shaw, LLP Attendees will be eligible for 18 hours of credit toward PHR, SPHR, and GPHR recertifications. The program has also been approved for 15 hours of Illinois continuing legal education (CLE).
For more information about this conference, or to register, go to: http://www.blr.com/Chicago.
BLR also announced a related national conference for employers across the U.S. The 2008 National Employment Law Update conference will take place in Las Vegas October 15–17.
For more information, visit http://www.BLR.com/NELU.
About Business and Legal Reports, Inc.
Business & Legal Reports, Inc. (BLR®) is an award-winning publisher dedicated to supporting companies with up-to-date HR, Compensation, Safety and Environmental analysis, training, and regulatory compliance information. Founded in 1977 with a mission to provide executives and decision makers with reliable, easy-to-understand analysis of the ever-increasing and complex state and federal laws, today BLR delivers online services such as HR.BLR.com, Compensation.BLR.com, Safety.BLR.com, Training.BLR.com and Enviro.BLR.com as well as popular Web destinations for professionals such as the HRDailyAdvisor.BLR.com, SafetyDailyAdvisor.BLR.com and HRChallenge.BLR.com. BLR also publishes highly regarded state compliance services such as What to Do About Personnel Problems in [Your State], Employee Compensation in [Your State], and Environmental Compliance in [Your State] as well as best practice newsletters, benchmark surveys, training materials, and books for more than 300,000 companies and their employees worldwide. For more information, contact BLR at http://www.BLR.com or call 1-800-727-5257.