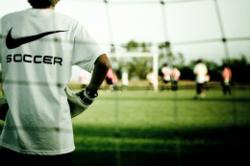 Knowledge equals success and at the Elite 150 Camp you will execute things you do not get even at the elite club level.
San Rafael, CA (PRWEB) April 24, 2012
Dave Di Tomasso, current Nike camp director at Elmhurst College, is expanding his summer soccer camp lineup by offering a unique and competitive high school camp for the serious high school player bound for college and the pros. The Illinois soccer camp offers top-notch instruction and exposure to the college coaches on staff during the week.
Coach Di Tomasso stresses, "Knowledge equals success and at the Elite 150 Camp players will execute things they do not get even at the elite club level. It will challenge players mentally, physically, and make them hungry for more information."
Campers attend class room sessions where they learn to be students of the game. They will study and analyze match play by examining tactical game theory and understanding various set play formations. Campers also receive Nike SPARQ training. Nike SPARQ, the leading innovator in fitness testing today, will administer SPARQ testing to all players and will then receive a personalized SPARQ review. SPARQ is designed to test the skills and athleticism demanded by the sport. "SPARQ training is the key to unlocking your athleticism. It all starts by getting your SPARQ rating!"
Goalkeeper staff includes Coaches Brad Swenby and Scott Rose. These coaches have over 40 years combined of goalkeeping experience, including professional, ODP, academy, and regional experiences and high level NSCAA and USSF accreditations. There are two keeper specific training sessions per day and are in goal for nightly, evaluated matches.
In a partnership with the National Soccer Coaches Association of America, parents are invited to attend a three hour educational seminar. Upon completion of the three hour class each parent receives a Special Topics Diploma through the NSCAA.
About Nike Soccer Camps
US Sports Camps (USSC), operator of the Nike Soccer Camps, is headquartered in San Rafael, California. USSC has been in the business of offering sports camps for 36 years and is America's largest sports summer camp network as well as the licensed operator of the Nike Sports Camps. Our mission is to provide athletes with the tools to improve and to enjoy soccer for life.
Players, parents, coaches and others interested in the 2012 Nike Soccer Camps can visit http://www.ussportscamps.com/soccer/nike or call 1-800-645-3226.