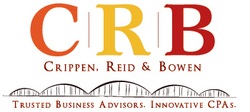 The States need the money - the rules are changing. Is your business covered?
Moline, IL (PRWEB) December 21, 2009
Quad City CPA Firm, Crippen, Reid & Bowen, presents the latest in its highly-rated continuing education speaker series on state and federal tax issues.
This next session of the Accounting and Tax Professionals Series features Eric Fader, partner at the law firm of Horwood Marcus & Berk in Chicago. Mr. Fader is also an adjunct faculty member at the John Marshall Law School. Mr. Fader will be covering issues and providing insight related to new state tax laws in Illinois and Iowa that will have implications for businesses in the 2010 tax season. Topics range from new business taxes and "Bright-Line" presence to Nexus and Apportionment Issues.
The workshop is Friday, January 8, 2010, from 8:30AM until 1200PM, takes place at the MRA (Associated Employers) in Moline, Illinois. The series is $35.00 per person and qualifies for 4 hours of continuing education for Illinois and Iowa CPAs. The series is for anyone who is interested in tax and accounting best-practices.
The accounting and tax firm of Crippen, Reid & Bowen, located in the Quad Cities, serves a wide rage of clients in Illinois and Iowa. Crippen, Reid and Bowen offers tax and business advisory services including Financial Statement Services, Management Consulting, Strategic Business Consulting, Tax Planning & Consulting, Business Valuations, Litigation Support, Mergers and Acquisitions, Estate & Gift Tax Planning, Tax Compliance, Employee Benefit Plans, and Accounting Services. To learn more about Crippen, Reid and Bowen go to crbcpa.com
To register for this event, please call Sheila at 309-764-3200 for more information. Space is limited. Please register by January 4, 2010.
# # #