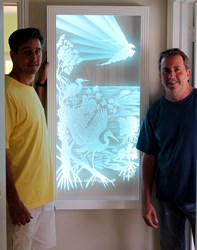 It is just as beautiful as I imagined. Thank you so much. It is a beautiful tribute! It made me tear-up.
Pompano Beach, Florida, August 26, 2013 (PRWEB) August 27, 2013
Glass artist Peter Edward Jurgens of Krystal Glass Company completed a custom commissioned art glass memorial in carved, etched and illuminated glass recently in Lantana, Florida for a family whose parents passed away last year within eight months of each other. The art glass sculpture installation was part of a major renovation by the family to the home their parents lived in for nearly 20 years and that will remain in the family as a vacation home.
Glass artist Peter Edward Jurgens (right in photo) created a one-of-a-kind custom carved, etched and illuminated art glass sculpture that displayed two Egret birds among the mangroves in a tropical, nautical South Florida setting to commemorate the client's parents and the waterfront home they loved. Peter Edward, president of K rystal Glass Company, http://www.krystalglasscompany.com, created the artwork of the peaceful tropical scene to look like the view from the back of the waterfront home with tropical birds, mangroves and even a fish jumping out of the water. The art glass is highlighted by two smaller birds at the top flying off together into the sun's rays to signify the couple's ascension to heaven. He even carved "Tony and Alice" on the tree surrounded by a heart as if it had been carved in the wood many years ago.
"It is just as beautiful as I imagined. Thank you so much. It is a beautiful tribute! It made me tear-up," the client said when he saw the completed art glass for the first time.
Peter Edward used a combination of etched glass and carved glass techniques done by hand at his studio in Pompano Beach, Florida to achieve the fine details of the lighted Starphire glass sculpture. Starphire glass is nearly colorless because it contains very little iron and does not have the green color of most glass. He prefers to use Starphire glass for his carved and illuminated art glass because it does not distort the colors of the LED lights. Eight color LED lights on a color-changing controller were used to illuminate the glass. The 25" x 50" piece was hung on the wall in a custom made frame to match the décor of the home.
"I really enjoyed creating this piece because the commemorative aspect was so personal to my client and his family. It was very special," said the artist.
Peter Edward Jurgens, president of Krystal Glass Company, is a master glass artist with a 30-year history of creating thousands of custom art glass projects by hand in etched glass, carved glass, illuminated glass, painted glass, antique mirror and decorative mirrors. His art glass and mirror graces the luxury homes, yachts and businesses of clients in his hometown of South Florida and beyond. He is well known for highly detailed etched and carved glass designs rich with multi-shaded areas achieved by hand. Most commissions come from referrals and repeat clients. Krystal Glass Company has been family owned and operated since 1980.