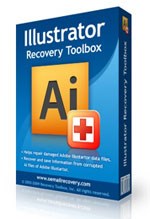 the most powerful program of its kind that offers unprecedented speed, recovery quality and ease of use.
Alexandria, VA (PRWEB) November 13, 2012
Recovery Toolbox releases Illustrator Recovery Toolbox, a tool for quick and efficient recovery of Illustrator AI files intended primarily for digital artists and system administrators looking for a way to perform Illustrator recovery at any time and with no access to professional data recovery services.
Saving such users an ample amount of time and money, this Illustrator recovery solution gets the job done in just a few simple steps and requires absolutely no recovery experience of any sort. The interface of the program uses an intuitive wizard that takes the user through the process and completely eliminates the possibility of making a mistake.
"Professionals use Adobe Illustrator a lot and these files grow really large, take a while to get saved to the hard drive and even longer to send over the Internet. Apparently, the larger a file is, the higher is the chance of its corruption when something goes wrong," explains Victor Bobrov, one of the developers of the program. "We did our best to create an Illustrator recovery tool that analyzes AI files the right way, taking into account all the specific characteristics of this format. I dare say the result is excellent – we have been receiving very positive feedback from users."
One of the notable features of Illustrator Recovery Toolbox is the possibility to send a file that the program failed to recover to the program developers for manual analysis. The program does not alter the source AI file in any way, thus enabling users to resort to alternative recovery methods, if necessary.
About Recovery Toolbox
Founded in 2003, Recovery Toolbox is currently the leading provider of data recovery tools for a broad range of programs. The growing portfolio of Recovery Toolbox consists of over 30 award-winning solutions intended primarily for mainstream applications used by millions of people worldwide. The company is committed to creating intuitive and user-friendly tools that help regular users solve complex data recovery and migration problems on their own.
Software site: http://www.oemailrecovery.com/
Product page: http://www.oemailrecovery.com/illustrator_recovery.html