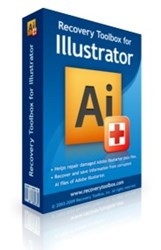 a compact tool that helps designers, print specialists and editors to quickly restore the contents of damaged*.ai files.
Sacramento, CA (PRWEB) May 28, 2013
Recovery Toolbox, a leading supplier of premium data recovery solutions, announces the release of Recovery Toolbox for Illustrator, an Illustrator Recovery product that is capable of restoring the contents of Illustrator AI files damaged after various incidents, from virus attacks to power shortages.
The interface of the program has been simplified to allow regular users to get the job done in minutes and avoid confusion.
The updated engine of the program is now capable of processing files of any size without any problems and at top speeds. The product is a great choice for professionals dealing with lots of AI files that often get damaged while being copied from portable media or downloaded from the Internet. Recovery Toolbox for Illustrator completely automates the entire process and shows a recovery log after saving the data. If additional compression or PDF compatibility is required, it can be added in Adobe Illustrator.
"With Recovery Toolbox for Illustrator, users now have an ultimately powerful Illustrator recovery tool that can restore AI image files in situations when all seems to be lost," explained Victor Bobrov, CEO of Recovery Toolbox. "Being able to get your data back when you need it most of all is truly invaluable and we hope that our customers will truly appreciate the functionality and comfort provided by this tool."
The free trial version of Recovery Toolbox for Illustrator can be downloaded from the official Recovery Toolbox website in the form of a 100% virus-free installation package.