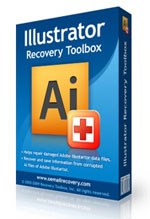 a powerful, yet easy to use tool for restoring the contents of damaged Illustrator *.AI files.
Sacramento, CA (PRWEB) June 05, 2013
A leading developer of specialized data recovery tools, Recovery Toolbox, is glad to announce the release of Illustrator Recovery Toolbox, the most advanced, yet very intuitive Illustrator recovery tools on today's market. With a totally rewritten file analysis core and multiple other enhancements, the new product raises the bar for similar solutions and offers a perfect balance of performance, quality and predictability of results. This Illustrator recovery solution uses an intuitive wizard-based UI to guide users through every step of the process in a 1-2-3 manner.
The use of the program requires minimal computer literacy and just basic computer skills, which makes it a good choice for a broad range of users, from complete novices to professionals. The software supports all versions of the AI format and works with AI files of any size. Once the Illustrator recovery process has started, the user can monitor the progress with the help of convenient progress bars. Upon the completion of the recovery session, Illustrator Recovery Toolbox shows a detailed log, giving the user the full picture of the work done.
"The original Illustrator Recovery Toolbox was extremely successful, but we wouldn't be ourselves if we hadn't tried to make it an even better product," says Victor Bobrov, Senior Product Manager at Recovery Toolbox. "With a brand-new engine and quite a few tweaks in the algorithms, the program now outperforms all of its competitors by a fair margin – and we aren't going to stop here!"