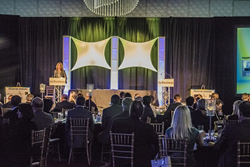 If a company wins an ILoA Award, it shows they truly are the cream of the crop among Arizona businesses.
PHOENIX, AZ (PRWEB) February 18, 2016
This past weekend, AZ Business Magazine once again hosted the Industry Leaders of Arizona Awards at the Chateau Luxe in AZ where GlobalTranz won the Innovation Award. Only three of the eight companies being recognized were nominated for a specialty award including GlobalTranz.
"For us to win the Innovation Award means a lot to our team here at GlobalTranz. Our whole business is based on being the most innovative logistics software and brokerage firm in the country. This award demonstrates our success at achieving that goal here in AZ." – Andrew Leto, CEO and Founder of GlobalTranz
The ILoA Awards were sponsored this year by leading AZ businesses like the AZ Central Credit Union, Lovitt & Touche', and RSM, among others. Awards were given to the top businesses among:

Staffing Agencies
Distribution/Logistics Companies
Retail Businesses
Healthcare Services
And Hospitality
There were three specialty awards given: the Community Impact Award, the Founder Award, and the Innovation Award. GlobalTranz was specially recognized for their innovative "one-stop-shop" approach to providing innovative solutions for LTL, FTL, Supply Chain Logistics and Warehousing.
"The Industry Leaders of Arizona Awards recognize the contributions and impact of Arizona‐based companies on both the economy of Arizona and in the communities they serve.  If a company wins an ILoA Award, it shows they truly are the cream of the crop among Arizona businesses." – AZ Big Media Editor in Chief Michael Gossie
As one of the fastest growing companies in AZ with a vast network of freight agents throughout the U.S., GlobalTranz has a huge impact on Arizona's economy. The universal popularity of their proprietary freight management and customer relations software makes them a force to be reckoned with not only in Arizona but on a global scale.
"Cresa was proud to present the Innovation Award to GlobalTranz at the Industry Leaders of Arizona Awards ceremony last week." Says Gary Gregg, Managing Principal of Cresa, event sponsor and building broker partner of GlobalTranz "Andrew's visionary leadership coupled with the development of innovative technology is reflective of the purpose of the award. Congratulations to Andrew and the entire GlobalTranz team."
Over the last few months GlobalTranz has received statewide recognition for their enormous success as an Arizona business, which includes being recognized as one of the fastest growing companies in Arizona for three years straight. By receiving the Innovation Award at the 2016 Industry Leaders of Arizona award ceremony, GlobalTranz continues to attract the positive attention of business leaders within and outside of the State of Arizona.
About GlobalTranz
Founded in 2003, GlobalTranz is a privately held, Phoenix-based logistics company specializing in freight management services including LTL, Full Truckload, Supply Chain Management, and Domestic Air/Expedited shipping. Their team focuses on innovative technology and partnering with sales professionals that possess energy, insight and a fervent customer service mentality.
 
GlobalTranz has created a one-stop-shop for its customer base of over 25,000 shippers through providing Less-Than-Truckload, Full Truckload, Supply Chain and Expedited Services. In 2015, Transport Topics Announced GlobalTranz as the 14th Largest Freight Brokerage Firm in the US. GlobalTranz is a leading company in the $157 Billion Dollar third-party logistics industry, with annual revenue of $484M and growing every year. Led by Founder, Andrew Leto, GlobalTranz currently has 500+ employees and is growing rapidly.
 
###
 
For additional information please contact:
 
Todd S. Bookout
Marketing Director
Phone: 480.339.5722
E-Mail: tbookout(at)globaltranz(dot)com