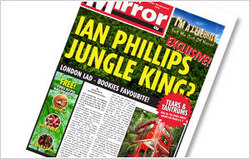 (PRWeb UK) November 17, 2010
Get celebrity status and be on the front page of a newspaper as King or Queen of The Jungle. With jungle fever taking hold on ITV's award-winning I'm a Celebrity .... Get Me Out of Here! , fans of the show can now, for the first time, get personalised jungle merchandise thanks to Gone Digging.
Gone Digging's I'm A Celebrity...Get Me Out of Here! products are a perfect gift for any fan of the show. The lucky recipient can have a celeb lifestyle and their 15 minutes of fame in just a few simple clicks – without being dumped in the Australian jungle or undertaking a Bushtucker Trial.
Gone Digging's I'm A Celebrity...Get Me Out of Here! fun products are:
I'm a Celebrity...Spoof Newspaper
King/Queen Of The Jungle: This front page tabloid size newspaper can be personalised the with the recipient's name and their photograph. The jungle themed story will also be personalised and comes in a selection of options from single page at just £9.99 to framed at £19.99
I'm a Celebrity...Personalised Mug
Capturing the vibrant colours of the jungle, the mugs are personalised with a name and number of creepy crawlies that could be served with the drink. The mugs at just £9.99 are dishwasher and microwave safe and scratch resistant.
I'm a Celebrity...Spoof Magazine
This jungle magazine front cover is stunning A4 quality and can be personalised with any name, a picture and month. From £9.99 the magazine cover can also be framed at £19.99.
About Gone Digging
Gone Digging (http://www.gonedigging.co.uk) is part of Signature Gifts Ltd which operates a number of innovative gift sites sharing the common goal of offering personalised gifts for important dates or interests. Sites include original and historic newspapers, sports and top news coverage of major events. Items can all be personalised and purchased in a number of mediums including frames, bound books, T shirts, calendars, diaries, cards and mugs. Established by Mike Herbert and Kevin Spindler in 2003, Signature Gifts Ltd employs over 75 staff based in two locations – Wigtown in Scotland and Harpenden in Hertfordshire.
I'm A Celebrity…Get Me Out Of Here! ™ and © ITV Studios Ltd 2010. Licensed by Granada Ventures Ltd. All rights reserved.
###