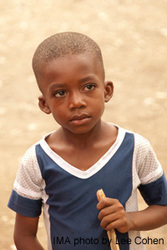 Healthy Kids Kits address basic sanitation needs in a way that can reduce illness and disease
New Windsor, MD (Vocus) May 18, 2010
IMA World Health (IMA) today announced the introduction of its Healthy Kids Kit, a compact and sturdy supply of basic sanitary and personal care items to help prevent illness in developing countries.
The Healthy Kids Kit was developed in cooperation with the Haitian Ministry of Health to help prevent illness and disease in post-quake Haiti, where overcrowding and poor sanitation is common. Frequent hand and face washing is an easy and effective way for a child to prevent disease. Each Healthy Kids Kit contains a bar of soap, toothbrush, toothpaste, comb, skin lotion, and a new washcloth. These basic, critical personal health supplies are packaged in a sturdy safe-lock bag for storage.
IMA will deliver Healthy Kids Kits through its existing Haitian health care network. IMA manages, with funding from USAID, an integrated Neglected Tropical Disease (NTD) control program with a goal to eliminate diseases causing elephantiasis and intestinal worms. Partners include the Haitian Ministry of Health, World Health Organization, and Centers for Disease Control. Healthy Kids Kits will be delivered through this network, which serves hundreds of thousands of Haitians of all ages.
"Healthy Kids Kits address basic sanitation needs in a way that can reduce illness and disease," said Richard L. Santos, President and CEO of IMA World Health. "Donating a Healthy Kids Kit in Haiti is an easy, yet very effective way to make a real difference in a child's life."
Individuals and organizations can provide a Healthy Kids Kit for $15. A Family Pack, which provides Kits for three children, can be provided for a donation of $45. A gift of $300 will fund a Classroom Pack, with kits for a moderate-sized class of 20 children. To donate a Healthy Kids Kit and help save a life, please visit http://www.imaworldhealth.org.
Healthy Kids Kits joins other IMA medical packages, including the Safe Motherhood Kit, which enables women to give birth safely by providing them with clean and sterile supplies, training on how to prevent infection, and warm clothes to protect their newborns; and the IMA Medicine Box®, which provides basic medicines and supplies to treat up to 1,000 people for two to three months. IMA also works in the major areas of disease control, training and education, and health system strengthening.
About IMA World Health
IMA World Health is a 501(c)(3) nonprofit organization that helps provide essential healthcare services and medical supplies to people in need around the world. IMA operates primarily in developing nations to restore health, hope and dignity to those most in need. For more information, visit us at http://www.IMAWorldHealth.org or call 877-241-7952.
# # #