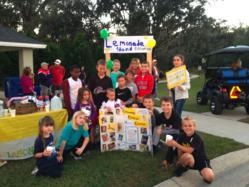 We are humbled by the spirit of giving in our community! - Amy Huth, Image Forward.
Tampa, FL (PRWEB) November 28, 2012
Amy Huth Image Forward's Director of Charitable Giving, states "Thank you to the children, parents, families and community of Grey Hawk at Lake Polo, for coming together and meeting the charitable goals for the Children's Cancer Center by having a Lemonade Stand. What a beautiful sunny day and heart warming experience to have so many people in our neighborhood come together for a positive local children's charity, the Children's Cancer Center In addition, Image Forward coordinated with 20 families in Grey Hawk to "adopt a family" whose children's lives are affected by Cancer. The organized group went out and purchased toys, bedding, household supplies, gift cards, and other items and are giving these charitable contributions to assist these families as they struggle in meeting health care costs, physical, and emotional demands of having a child with Cancer.
About the CCC of Tampa, Florida.
The Children's Cancer Center is an independent 501(c)3 nonprofit organization dedicated to helping children and families cope when battling childhood cancer or chronic and debilitating blood disorders. They are not affiliated with any government agency and receive no public funds or dedicated grants, therefore they rely upon business partnerships and the general public to continue to undertake their mission.
Children's Cancer Center is currently offering holiday gift cards as part of their fund raiser initiatives. For purchase information or if you would like to learn the many ways the Children's Cancer Center helps families dealing with cancer and debilitating blood disorders please visit http://www.childrenscancercenter.org
About Image Forward
Image Forward, a Tampa internet presence management company, helps our clients to drive revenue by leveraging and building audience engagement through the use of proprietary tools including a high recognition local SEO directory system (if-Places) containing over 105,000 local business listings & automated social content distribution system (if-Social). The company provides turnkey Internet Presence Management Solutions to improve brand visibility by establishing a local search presence & publishing high value content to social portals.