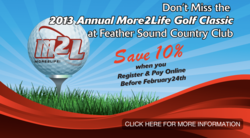 The programs offered by More2Life offer a positive message and empower Pinellas county youth who are battling the pressures of modern society to find their own path." - Michael Huth, CEO www.ImageFoward.com
Clearwater, FL (PRWEB) February 12, 2013
The 2013 Annual More2Life Golf Classic will be at Feather Sound Country Club on Monday, March 11, 2013 at 1:00 tee time. Once again in attendance will be Michael Huth of Image Forward who has also been on the board of directors for More2Life and a charitable partner for many years.
This annual tournament benefits the More2Life Youth Development Program who partners with schools, parents, churches, and communities to increase awareness among students that "their choices affect their futures."
Last year over 5,500 students were challenged to make positive choices to lower unplanned pregnancies & STD's. Since 1999, we've challenged over 80,000 Pinellas County students to make healthy choices and avoid drugs, alcohol, and sex before marriage! According to Jason Dorr, and More2Life website information.
Entry fee for the tournament is $150 per golfer which includes: green fees, cart fees, lunch, on-course beverages, awards dinner, gifts for participants, contests and prizes.
There are also opportunities to market your business and get a tax write-off for a charitable contribution. Visit this More2Life charity link for more information about sponsorship opportunities. Are you a Pastor? Recruit three people to play with you and you'll golf for free!
For more information, email Jason(at)M2L(dot)org or call 727-216-1404 x206.
The vision of More2Life is clear and simple, to help students make healthy choices. Since 1998 that has been achieved by providing in-school and after-school presentations throughout Pinellas County to over 70,000 students! More2Life presentations are fun and interactive while our educators cover important topics such as goal setting, healthy relationships, influences and consequences.
Contact:
Address: 1910 East Bay Dr. Largo, Fl. 33771
Office: 727.216.1404 ext 207
Fax: 727.216.1403
Website: http://www.M2L.org
Facebook: https://www.facebook.com/more2lifefl
This Press Release was sent for Free as part of Image Forward's charitable giving corporate initiative.
About Image Forward:
Image Forward, a digital marketing agency, helps our clients to drive revenue by leveraging and building audience engagement through the use of proprietary tools including a high recognition local SEO directory system (if-Places) containing over 105,000 local business listings & automated social content distribution system (if-Social). The company provides turnkey Internet Presence Management Solutions to improve brand visibility by establishing a local search presence & publishing high value content to social portals.
Image Forward Website:
http://www.ImageForward.com
###