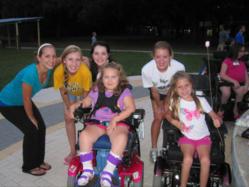 This charity idea inspired our individual team members to personally look outside themselves for a way to give back where it hits close to home. Michael Huth, CEO www.ImageForward.com
St. Petersburg Florida (PRWEB) May 31, 2013
"This idea transpired when I realized that our time, effort and money we have shared throughout the years has a very true connection to someone personally." Our vision has always been to choose a charity with a connection states Amy Huth, Image Forwards Director of Charitable Giving. "We decided to ask each team member to nominate a local (to Florida) charity of their choice. We were essentially looking for someone on our team who personally had a connection to a specific charity because of someone in their family, perhaps a friend, or coworker they knew that dealing with an issue that could bring a National Awareness to the charity, but to intentionally recognize the connection to the family and what they are going through", concludes Huth.
There was a group of outside professional business partners who debated over each submission from the Image Forward staff. All of the charity nominations were outstanding, and most likely contributions will be made to them incrementally over time.
The family that won this contest has a 10 year old daughter, Ava who has Spinal Muscular Atrophy (S.M.A.) Her parents, Lewis and Ashley were quite taken back when they realized their little girl wasn't walking and got the phone call one day that would bring them to their knees.
Ava's father states, "I submitted The Greater Florida Chapter of FSMA to the companies charity contest because the chapter president Katie Kerns has a daugher, Allison near Avas age. She has SMA too. I know how hard the Kerns family and team of FSMA Greater Florida Chapter works to raise money to fight SMA and to create awareness to our unique needs and desire to help our children." Until there is a cure fsma.org offers substantial research contributions to medical organizations seeking a cure, advocates necessary government clearances through the FDA, as well offering newly diagnosed family care packages, and a community of support and outreach, states Avas father.
Facts about the condition: Spinal muscular atrophy (SMA), the number one genetic killer of children under the age of two, is an often fatal disease that destroys the nerves controlling voluntary muscle movement, which affects crawling, walking, head and neck control, and even swallowing. SMA is one of the most prevalent genetic disorders. One in every 6,000 babies is born with SMA. SMA can strike anyone of any age, race or gender. One in every 40 people carries the gene that causes SMA. The child of two carriers has a one in four chance of developing SMA. 7.5 million Americans are carriers.
SMA does not affect sensation and intellectual activity in patients. It commonly is observed that patients with SMA are unusually bright and sociable. Huth continues by saying, "In speaking with Lewis he made many comments about how brave Ava is - she understands the disease is degenerative, she lives each day to the fullest, counts her blessings, and shows those close to her, how to take time out for themselves and slow down and to thank God everyday. Slowing down to witness all of our amazing free daily gifts has been a life lesson earned by Ava's father and worth sharing", concludes Amy.
About Greater Florida FSMA Chapter:
The FSMA Greater Florida Chapter was started in 2009 by Katie Kerns, mother to Allison, SMA Type 2. At the time, the state of Florida had no local support system and doctors and most hospitals had yet to establish SMA-specific protocols for assisting sick patients. As parents, SMA-afflicted individuals and community members came together, the new Board and Chapter was off and running. The goal of the Greater Florida Chapter has always been to support our families in all things SMA-related, from hospitalizations and equipment to school and socialization needs. The FSMA Greater Florida Chapter raises money to find a treatment or cure for SMA, educate community members and ensure that their medical communities and facilities have the latest research, tests and treatment information available. The Greater Florida Chapter has raised over $150,000 since 2009, with events such as its annual Walk N Roll, the annual Maluko Golf Classic, SMA Day With The Rays, a Costume Crusade and various local events throughout August, SMA Awareness Month.
For a full list of upcoming events or for donation information, please go directly to http://www.fsma.org/greaterflorida. You can also reach us on our "Families of SMA - Greater Florida Chapter" Facebook page, at our email address greaterfl(at)fsma(dot)org or at our Twitter Account @FSMAGreaterFlorida. Katie Kerns can be reached at 727-388-1888 or at 727-512-4192.
About Image Forward
Image Forward, a digital marketing agency, helps our clients to drive revenue by leveraging and building audience engagement through the use of proprietary tools including a high recognition local SEO directory system (if-Places) containing over 105,000 local business listings & automated social content distribution system (if-Social). The company provides turnkey Internet Presence Management Solutions to improve brand visibility by establishing a local search presence & publishing high value content to social portals.