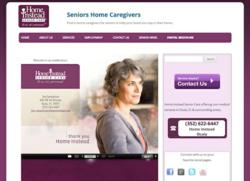 The addition of the ISI digital brochure is a welcome lead generating component to the franchise clients corporate blogging platform. - Michael Huth, www.ImageForward.com
Tampa, Florida (PRWEB) June 28, 2013
Image Forward unveiled its corporate blogging platform earlier this year at the Home Instead Senior Care annual convention in Omaha Nebraska. While in attendance Michael Huth, Image Foward CEO struck up a conversation with Tom Long of ISI Technologies. After discussing ways to help each other better serve their growing numbers of franchise clients, a business synergy was developed. It was decided that the companies would work together to include a unique instance of the ISI Technologies digital brochure into each of over 200 Home Instead franchise owner blogs. This is very beneficial to the mutual Home Instead Senior Care Franchise owners both organization serve. Image Forward developed a custom blogging platform for Home Instead franchise owners that is designed to look great and make it easier for a busy business owner to engage prospective clients with the power of personalized messages shared through their blogs. ISI technologies worked with our development team to include a customized instance of their popular Digital Brochure system. This interactive application works on any browser or device and helps get the technology out of the way of the client so they can rest assured that a powerful engaging lead generation system is working for them 24/7 to help reach new audience members and potential clients. Tom Long of ISI Technologies states, "our digital brochure helps companies make a high-impact first impression to their target audience, actively engages them, persuasively demonstrates a business' unique selling position, and moves them through the sales process."
Tom Long, continues, "the digital brochure systems offer amazing feedback to franchisees such as who viewed, how long, where at and much more. We are excited to showcase our unique system in Image Foward's franchise blogging system." Please click on the link below to see a live example from some a successful ISI development. The Home Instead Senior Care digital brochure designed to open on any device.
About Image Forward:
Image Forward, a digital marketing agency, helps our clients to drive revenue by leveraging and building audience engagement through the use of proprietary tools including a high recognition local SEO directory system (if-Places) containing over 105,000 local business listings & automated social content distribution system (if-Social). The company provides turnkey Internet Presence Management Solutions to improve brand visibility by establishing a local search presence & publishing high value content to social portals.
About ISI Technologies:
ISI Technologies has been making corporate dreams realities for fifteen years with custom cutting edge, Sales Messaging Systems. ISI combines Sales expertise, gifted graphic designers and skilled IT professionals to produce unique, compelling, customized sales solutions with eye-catching graphics, animations, and audio, that bring a new dimension to your message. These fluid sales messaging systems are easily updated and integrated across all platforms – mobile apps, PCs and Macs, iPads, and tablets.
Visit the ISI Technologies digital brochure website for more information.
###