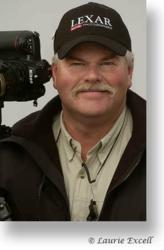 My true passion has always been and remains photographing the life history of our endangered wildlife and wild places. Since 1981 wife Sharon and I have dedicated our lives to this pursuit.

"Moose Peterson"
Saint Augustine, FL (PRWEB) May 23, 2013
Images in Africa Safaris, a provider of African Safaris and Photography workshops to South Africa, Namibia and Botswana, is excited to announce that Photographer & Author Moose Peterson will be the guest instructor at our two October 2014 African Safari workshops held in the exclusive Sabi Sand Private Game Reserve in South Africa.
Mr. Moose Peterson will be teaching basic photography, advanced photography techniques, photography concepts, composition and handling difficult lighting conditions at the Safaris scheduled for October 6th 2014 through October 16th 2014, and October 16th 2014 through October 26th 2014, at the two spectacular lodges at Elephant Plains and Idube Game Reserve. Mr. Peterson will also accompany each group of photographers on three morning game drives and three afternoon game drives and will provide in the field tutoring as required.
Moose Peterson is well respected as a photographer and author, and some of his many accolades include being a "Nikon Legend behind the Lens" recipient, being honored as a Lexar Elite Photographer, as well as a recipient of the John Muir Conservation Award for Research Associate with the Endangered Species Recovery Program.
Further, Moose Peterson was part of Epson's Finish Strong ad campaign. Moose shares his knowledge through his writing, being published in over 133 magazines worldwide, author of 25 books including his latest, "Taking Flight" and best seller "Captured".
The two African Safari workshops that Images in Africa Safaris has put together for Mr. Moose Peterson are unique, in that each safari is 11 days. Photographers and or their spouses or partners will get to enjoy a two lodge Combo in the exclusive and Private Sabi Sand Game Reserve. Further Images in Africa Safaris is limiting each of the safaris to 6 photographers 3 non-photographers.
The first 11 day African photography safari is scheduled for October 6th through October 16th 2014 and will commence at Idube Private Game Reserve. The guests will spend 6 nights at this fantastic facility, and then will move to spend the last 4 nights at the amazing Elephant Plains Game Lodge which is situated in a different part of the Sabi Sand Game Reserve, this is where Mr. Peterson will commence his first 3 day teaching session.
The second 11 day African photography safari workshop is scheduled for October 16th through October 26th 2014 and Photographers and their guests will spend the first 5 nights at the Elephant Plains Game Reserve where Mr. Peterson will teach the second 3 day session, then the safari will move back to Idube Game Reserve for the last 5 nights.
"Headquartered in Saint Augustine, Florida, Images in Africa Safaris, a licensed and bonded "Seller of Travel" in the state of Florida, provides Safaris and Photography workshops to South Africa, Namibia and Botswana. Since 2010, the unique one and two location safaris have been a choice of many avid safari goers. Images in Africa Safaris is dedicated to upholding the same high standards of customer satisfaction today as it has since opening. For additional information about Images in Africa Safaris, call 916.759.0776, email gavin@imagesinafricasafaris.com or visit http://imagesinafricasafaris.com"