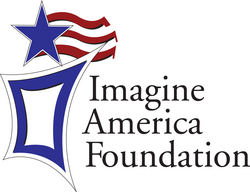 These individuals have shown bravery and commitment in so many areas of their lives, not just serving our country, but in classrooms as well
Washington, DC (Vocus) June 25, 2010
The Imagine America Foundation proudly bestowed its annual LDRSHIP Awards on seven members of the U.S. military at the Career College Association Convention & Exposition in Las Vegas on June 10. Provided with up to $5,000 in cash grants, the recipients can continue their career education with less financial worries.
Honoring those who have distinguished themselves in the U.S. military and in the classroom is now a tradition for the Imagine America Foundation. Since 2004, the Foundation that is the largest scholarship provider to career college institutions has annually honored military personnel with LDRSHIP Awards. Nearly $300,000 has been awarded to exceptional military students attending career colleges nationwide. In that time, the awards have provided financial assistance to young men and women returning from military service in Iraq and Afghanistan, reservists, honorably discharged, retired and active duty military personnel.
The Imagine America Foundation honored the following students with the 2010 LDRSHIP Award:

Kimberly Cupery, United States Army: Herzing University – Madison, Wisc.
Matthew Demaske, United States Marine Corps: ECPI College of Technology – North Charleston, SC
Melissa Gridley - United States Air Force: The Art Institute of Tampa – Tampa, Fla.
Latisha Jefferson, United States Army: Remington College - Shreveport, La.
Jessica McGloin, United States Navy: International Academy of Design and Technology – Orlando, Fla.
Mark Rauschenberg, United States Air National Guard: National College – Youngstown, Ohio
Alfredo Rosado, United States Marine Corps: Westwood College – Chicago, Ill.
"These individuals have shown bravery and commitment in so many areas of their lives, not just serving our country, but in classrooms as well," said Bob Martin, president of the Imagine America Foundation. "It's our honor to recognize them."
The2010 LDRSHIP Award grants were sponsored by Ambassador College Bookstores and Blackboard Professional Education.
To receive the honor, applicants must attend Imagine America-affiliated or Career College Association (CCA) member institutions and have a cumulative 3.5 or higher grade point average and at least a 95% attendance record.
About the Imagine America Foundation
The Imagine America Foundation (IAF), established in 1982, is a not-for-profit organization dedicated to providing scholarships for education, research and training support for the career college sector. Since its inception, the Foundation has provided over $40 million in scholarship and award support for graduating high school seniors, adult learners and U.S. military personnel attending career colleges nationwide through its award-winning Imagine America® programs. The Foundation also publishes vital research publications for the higher education sector, honors achievement in career education and offers faculty development training. For more information about the Imagine America Foundation's programs, please visit http://www.imagine-america.org.
Contact: Robert L. Martin, Imagine America Foundation President
Phone: (202) 336-6758
###