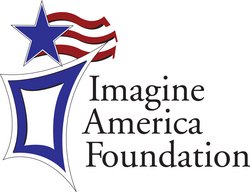 Jack is an individual who has such passion for what he does that he automatically draws people to him
Washington, D.C. (Vocus) June 30, 2010
Jack Larson has been at the forefront of innovation in career college education since he began his career in the sector 36 years ago. On June 10, his contributions were recognized when the Imagine America Foundation presented him with one of its most prestigious honors. Larson graciously received the Pioneer Award from the Imagine America board of directors during the Imagine America Foundation Gala at the 2010 Career College Association Convention in Las Vegas, Nevada.
The annual Pioneer Award recognizes career college founders, owners or operators who have provided exceptional leadership and support to the career college sector. Larson-- Career Education Corporation (CEC) founder, education visionary, entrepreneur, friend and family man--is no exception.
Dr. Patricia Kapper, member of the Imagine America Foundation board of directors who worked alongside Larson at CEC as its chief academic officer, echoed the sentiment articulated by many in a moving video highlighting Larson's accomplishments. "Jack is an individual who has such passion for what he does that he automatically draws people to him," she said. Larson has displayed this passion time and time again over his 36 years in the postsecondary education sector.
In 1994, Larson founded Career Education Corporation, one of the largest post-secondary education companies in the United States. Larson led the growth of CEC and expansion of its on-ground and online degree and certificate programs nationally and internationally. Under his leadership, CEC acquired and developed many renowned brands, including Le Cordon Bleu Schools North America, Brooks Institute of Photography and Colorado Technical Institute, and pioneered its unique virtual campus used in several highly successful, fully online platforms.
Currently, as president and CEO of Triumph Capital, LLC, Larson advises and invests in domestic and international education companies. He is executive chairman of Triumph Higher Education Group (Triumph HEG), a subsidiary of Triumph Capital dedicated to developing global post-secondary education that is innovative, high quality and affordable. Triumph HEG recently announced plans to develop the first Auguste Escoffier School of Culinary Arts, a unique new professional school for culinary and baking.
Jack's colleagues admire him for his dedication to the sector, his efforts in building online education, and for his friendship.
"One of Jack's primary contributions both to the career college sector and to Career Education Corporation was to lay a foundation and bring legitimacy to online education," said Gary E. McCullough, president and CEO of CEC. "Jack was one of the early adopters of online education. He built a strong online education group, and I think that served as a role model for the rest of the career college group."
Larson joins the ranks of previous Pioneer Awardees who have distinguished themselves through outstanding leadership of their institutions, high ethical standards and devotion to innovation. Past Recipients of the Pioneer Award include Bill Clohan, Specs Howard, Dean Johnston, Rene Champagne, Caroline Willard, Bob Knutson, David Moore, Bobbi Nathanson, Robert Sweet, William Kalaboke, Marge Carlson, Henry Herzing, Julia Morally, Alfred Dreyfus, and Marsha Toy.
"I'm honored to have been chosen for such an award and to be in the company of its previous recipients," Larson said. "Many of these individuals are icons in the career college education sector. I am deeply grateful to them for paving the way for people like me to be able to offer hundreds of thousands of students the opportunity to find their own success."
About the Imagine America Foundation
The Imagine America Foundation (IAF), established in 1982, is a not-for-profit organization dedicated to providing scholarships for education, research and training support for the career college sector. Since its inception, the Foundation has provided over $40 million in scholarship and award support for graduating high school seniors, adult learners and U.S. military personnel attending career colleges nationwide through its award-winning Imagine America® programs. The Foundation also publishes vital research publications for the higher education sector, honors achievement in career education and offers faculty development training. For more information about the Imagine America Foundation's programs, please visit http://www.imagine-america.org.
Contact: Robert L. Martin, Imagine America Foundation President
Phone: (202) 336-6758
E-mail: bobm(at)imagine-america(dot)org
###