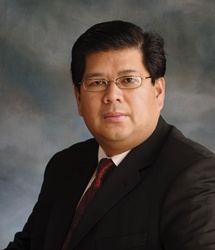 Rene has done a wonderful job for us in our first year of existence, and it gives me great pleasure to reward his vast skills and accomplishments with this promotion
TORRANCE, Calif. (PRWEB) September 5, 2007
Buhay's new position was effective Sept. 1. He had been serving as vice president of sales for North America.
"Rene has done a wonderful job for us in our first year of existence, and it gives me great pleasure to reward his vast skills and accomplishments with this promotion," said Hiroshi "Hugh" Komiya, chairman and CEO of General Imaging. "He has helped take this company from a total unknown to a major force in the marketplace in a very short time. He is the channel architect who made this all happen."
Besides directing sales throughout the U.S., Canada and Latin America, Buhay also assumes additional responsibilities in marketing, including strategic planning for new sales channels, advertising and public relations.
"I'm thrilled and honored with this announcement, and I will do my utmost to live up to the high standards that Mr. Komiya and the rest of the General Imaging leadership have set for me," Buhay said. "Over the coming year we will use every means available to dramatically raise the profile of GE digital cameras and make us one of the top brands in the world."
Since its May 1 launch in North America, General Imaging and its GE-branded digital cameras have already achieved a presence in 12,000 retail outlets and numerous online retailers. In addition, GE cameras have appeared several times on HSN.
"We're very pleased with our sales progress. We are on track to be in 20,000 retail outlets by the end of 2007," Buhay said.
In Latin America, GE cameras are now in 1,000 retail outlets, with expectations that they will be in approximately 3,000-5,000 stores by the December holidays.
Major U.S. distributors are SYNNEX Corporation and D&H Distributing. SYNNEX Canada Limited serves Canada. Jaacx Distributors serves the Latin American market.
Prior to General Imaging, Rene Buhay enjoyed an outstanding track record of more than 18 years in achieving results. He had extensive sales and marketing experience in OEM, retail and distribution channels, with over a decade in the digital imaging business.
From 2003 to 2006, Buhay served as president of Newport Technology, a consulting firm specializing in sales channel strategies and market development, generating over $100 million in revenue for his clients. Manufacturer clients included APEX, Philips and Ricoh; customer clients included major retailers and distributors in North America.
Before that Buhay served as VP of global sales for ArcSoft, a leading provider of digital imaging software; director of sales for Samsung Telecommunications America-Broadband Network Terminal Division; and national sales manager for Ricoh's Consumer Products Group.
Buhay holds a BA in Economics from Ateneo de Davao University in the Philippines and an executive MBA from Pepperdine University's Graziadio School of Business.
An independent company based in Torrance, Calif., General Imaging unveiled eight GE-branded cameras on March 8 in Las Vegas during PMA 07, the imaging industry's leading trade show.
Even at the entry level, the GE cameras include features one would expect from a much more expensive camera, starting with the A730's 7 megapixels of resolution, 3x optical zoom, and a 2.5-inch LCD screen. Models at the higher end feature up to 12 megapixels, up to 12x zoom, and 3-inch screens. In the middle is the E850, which adds wide-angle capability to its long list of features.
The cameras boast sleek and intuitive design, plus a host of popular, advanced functions as standard features, including panorama stitching, face detection, image stabilization, red-eye removal, and ISO 1600 sensitivity. More information about GE cameras is available at http://www.ge.com/digitalcameras.