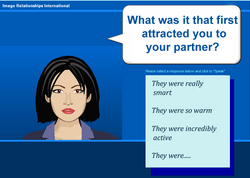 When my first marriage broke up I avoided marriage counseling like the plague. This gives people a taste of how much great stuff there is available.
New York, NY (PRWEB) March 17, 2010
Imago's new "marriage counseling" Avatar doesn't have a blue face and run around jungles. She lives in your computer screen, and provides penetrating insights into your marriage or relationship.
This is the new face of online relationship help, dreamed up at Imago Relationships International, one of the oldest and most established names in the business. Imago's Executive Director, Tim Atkinson, explains "When my first marriage broke up I avoided marriage counseling like the plague. I thought it would just be ineffective and unpleasant. Now I know better, I wanted to create something which gives people a taste of how much great stuff there is to learn about creating a strong relationship."
Avatars are animated people, or creatures, who can interact with you online. People create avatars to represent themselves when they enter games like "Second Life". Imago's Avatars are animated people that you can talk to about your relationship.
Imago's first interactive application was called "Home Late...again". As the game opens you are faced with an angry partner, demanding why you returned late from home without calling first. Apologies seem to add oil on troubled water. The game demonstrates the value of using elements from the "Imago dialogue", a conflict resolution process which lies at the heart of Imago's approach to marriage counseling.
"My Relationship Story" goes to a new level of interactivity. The avatar asks you a range of questions about your relationship and uses it to construct a story about how your partner may or may not be fulfilling your emotional needs. "She doesn't always get it right" admits Atkinson "but the point is to create awareness of how the past influences the present. It's marriage education, not therapy."
Imago first grabbed the public attention in 1988 when its co-founder Harville Hendrix, PhD published the best-seller "Getting The Love You Want." It was one of the first books to make sense of the complex field of marriage and long-term relationships, drawing on some of the great psychological and spiritual traditions and weaving them into a system that every couple could understand and make use of. "Imago isn't feeding the hungry, we're giving them fishing rods" comments Atkinson.
Hendrix and his partner Helen LaKelly Hunt PhD created a worldwide community of over 1,000 Certified Imago Therapists, one of the largest networks of couples therapy practice in the world. Teaching clients how to resolve relationship problems themselves has always been important to the approach. Therapy clients are encouraged to also attend a weekend workshop where they learn about the emotional forces that shape their relationship. "The combination of workshops and therapy is more effective, and saves money too" comments Atkinson.
The latest avatar-led online programs bring Imago's commitment to relationship education into the cutting edge of interactive technology. "We haven't seen anything else like it in this field, yet..." says Atkinson "My hope is couples will love this so much we can build a whole online teaching environment."
Is it the end of Marriage Counseling as we know it? Education tools like this may be all that some couples need to strengthen their relationship, but research indicates that most couples put up with a rocky relationship for years until they seek the help they need. "I'm just hoping less people make my mistake of choosing divorce over counseling" says Atkinson "I call this the Imago Test Drive. It's easier to commit to seeing a therapist when you can trust that they are using a process which you understand and like."
To test drive the Imago avatar visit Avatar Marriage Counseling
Imago Relationships International is a 501c3 nonprofit based in New York City, providing couples counseling and workshops in over 25 countries.
###