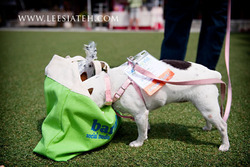 A portion of the proceeds from books sold at BarkWorld were donated to the Atlanta Humane Society
Tulsa, OK (PRWEB) August 24, 2010
Precious and The Rabbits Run and Hop is the second book in The Adventures of Precious The Dog, a series of children's books by Anipal, known on Twitter as @Imajackrussell.
Book two, launched exclusively at BarkWorld Expo, is a tale of a Jack Russell Terrier and her friends who live in her favorite park. Precious shows how she has fun with her anipals, Mrs. Butterfly, Birdie, and Ronnie and Roxie Rabbit.
BarkWorld Expo was a fun-filled weekend held at Atlantic Station, in Atlanta, GA. The conference kicked off on Friday, August 20 with keynote sessions, roundtable discussions and ended with a pet charity fashion show on Sunday, August 22.
Precious the Dog and her 'Humom' Cheryl Lawson were among the speakers on the BarkWorld agenda. Cheryl spoke about the self publishing process of the children's book series starring Precious, while the tenacious terrier played, barked, and enjoyed meeting many of her Twitter pals face to face.
"A portion of the proceeds from books sold at BarkWorld were donated to the Atlanta Humane Society," Said Cheryl Lawson, event and social marketing specialist. "We will continue to give to various animal charities as sales of the books grow. Precious would have it no other way."
In addition to Tweeting during the conference, posing for photos, and pawtographing her books for her aniplas, Imajackrussell used the location based application, Gowalla to "check in" to various places as she and her human family drove from Tulsa, Oklahoma to Atlanta, Georgia.
Precious' Twitter followers were able to see when she entered Arkansas, Mississippi, and Alabama just to name a few. On her way back to Oklahoma, Precious even checked in at the birth place of Elvis Presley. The check-ins were then used in a contest to allow her Twitter followers a chance to win copies of her books.
BarkWorld attracted corporate sponsors like PETCO, GMC, PEOPLEPets.com, Wellness natural food for pets, and Atlantic Station, but this little Jack Russell Terrier was right at home among these business and social media giants.
"As a character, Precious is perfect. She has a fun personality and does things that kids just love to see. The1stdaughter recommends ages 1 and up. A fun read for beginning readers and animal lovers everywhere." The1stdaughter.
About Imajackrussell©
Precious is a very adventurous Jack Russell terrier who loves to play, and ride in the car. You can follow more of her daily adventures on Twitter @Imajackrussell and or Facebook.com/Imajackrussell
To purchase your copy of one of the books, click on the link below or visit http://www.etsy.com/shop/imajackrussell
The Adventures of Precious The Dog: A Cheryl Lawson Project.
About BarkWorld Expo
The 2010 BarkWorld Expo (BW) was a social media conference for pet owners and businesses that use Twitter, Facebook, blogs, YouTube and other social media applications. It was also for pet owners that are on the fence about social media or just interested in networking with other pet lovers. BW provided a forum for the "behind the scene" tech savvy pet lovers to network and learn from each other and gain a better understanding about the products and services available to them. For business owners, BW provided education and tips on how to utilize social media to build their brand and increase visibility. http://www.barkworldexpo.com.
###